The Covid-19 pandemic has made us all more reliant on phone networks and internet services to stay in touch, which is why they are designated as critical services by the Government.
It's vital that people can keep connected when being asked to stay at home, work remotely and practice social distancing. But getting fast, reliable internet access can be a challenge – particularly when several people want to go online at the same time.
Connecting Cambridgeshire is working with telecoms operators to improve broadband, public access Wifi and mobile coverage across Cambridgeshire and Peterborough.
Our Enabling Digital Delivery service is supporting telecoms operators working on critical broadband and mobile networks, and can help to liaise with planners and streetworks.
We are also offering support by signposting businesses and communities to help available to keep everyone connected:
Broadband
Most homes and businesses across Cambridgeshire and Peterborough can now upgrade to superfast broadband of at least 24Mbps (and often much faster).The fibre broadband rollout is continuing to fill remaining gaps in coverage as soon as possible, meanwhile there are a range of options to help people cope with poor broadband connections.
If you want to upgrade your broadband speed, visit the Connecting Cambridgeshire Getting Superfast webpage to check if you can get superfast and follow the steps to upgrade, or find out about the options available.
Check the Home Broadband Networks guide for advice for employees on how to maximise broadband speeds and capacity while working from home.
One of our long-standing broadband champions has provided some useful tips to help improve your broadband speeds on his website: www.increasebroadbandspeed.co.uk/tips-speed-up-broadband.
Some providers offer reduced tariffs for households claiming certain benefits. BT has launched Home Essentials (July 2021), a new social tariff for financially vulnerable individuals who are on specific means-tested benefits (such as Universal Credit or Pension Credit), to offer a low-cost telephone and broadband package fibre broadband. Anyone on Universal Credit with no supplementary income will be eligible for a free super-fast broadband connection if they are with an Openreach provider, starting 5 October 2021, via their 'Connect the Unconnected' programme. Virgin Media offers existing customers on benefits a 15Mb connection for £15/mth and you can find out about other cheap deals on a comparison website such as the Money Saving Expert website.
Gigabit Broadband Vouchers & Project Gigabit
The government's Gigabit Broadband Voucher Scheme has the aim of increasing gigabit-capable coverage across the UK.
Cambridgeshire and Peterborough will be among the first areas in the country to benefit from the Government's £5 billion Project Gigabit scheme, announced in March 2021, bringing gigabit speeds to harder to reach areas.
However, to avoid duplication of public subsidy, premises in Cambridgeshire and Peterborough will not be eligible to apply for the Gigabit Broadband Voucher scheme again until after the Project Gigabit procurement is completed. Find out more about Project Gigabit on the DCMS website.
Mobile
Mobile phones or landlines are particularly essential for vulnerable people who are self-isolating, and those without internet access, to get food, medicines and other support they need.
Many people are also facing financial uncertainty and the more vulnerable members of our communities may need a bit of extra help.
The UK's major mobile and internet service providers have responded to this by offering a range of support for all their customers, including concessions for NHS frontline workers, the most vulnerable and people in financial hardship.
Mobile UK has put together some information about how mobile operators are dealing with COVID-19 and keeping the UK connected. They have collated details that explain some of the actions the industry is taking, information on how to get into contact with each mobile operator, and some additional useful advice that may be helpful on their website.
Find out more about how we are improving mobile coverage.
Public Access Wifi
Connecting Cambridgeshire is expanding free public access Wifi to help people get online, support businesses and make it easier to access vital public services.
The programme is working with partners to increase CambWifi provision in public buildings, open spaces, market town centres and village halls in rural areas.
Find out more about public access Wifi.
Helping people to get online
The Covid-19 pandemic has proved that the internet is a key utility for everyday life, and knowing how to use it is an essential skill, but many people are still missing out.
Connecting Cambridgeshire supports 'Get Online Week' every year to highlight help for people to get online and improve their digital skills by working with Cambridgeshire Libraries and Cambridgeshire Skills to signpost people to help available across the county, as part of a national campaign by the Good Things Foundation.
Find out more about how to get online in Cambridgeshire.
Cambridgeshire Digital Partnership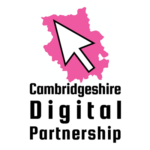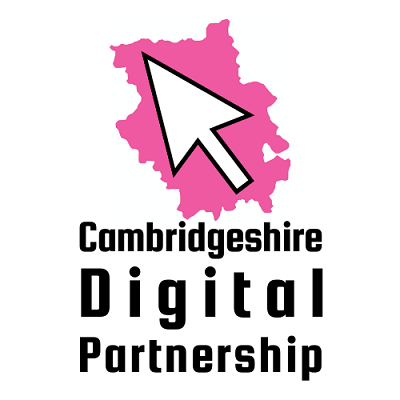 Cambridgeshire Digital Partnership (CDP) are a network set up to bring people together to connect, communicate and champion for digital inclusion in Cambridgeshire. CDP deliver quarterly online network meetings with opportunity for supporters to give updates, hear from guest speakers on best practice, work together to create resources and promote digital inclusion.
Find out more about the partnership and how your organisation can join as a supporter via cambridgeshiredigitalpartnership.org.uk.
Contact
If you need further advice on digital connectivity, please contact the Connecting Cambridgeshire team by email on contact@connectingcambridgeshire.co.uk stating your address, postcode, and situation.
Covid-19 support for businesses
Cambridgeshire County Council is aware that Covid-19 has brought unprecedented challenges to many business sectors. They have created a page on their website to bring together various advice and links to help businesses navigate to the information and support that is available to them.
You can also visit our Connecting Businesses page to find out about any grants or current support available to help businesses.