Connecting Cambridgeshire is expanding CambWifi, its free public access Wifi service, to help people get online, support local businesses and make it easier for everyone to access vital public services.
The programme is working with partners to increase free public access Wifi provision in public buildings like libraries, open spaces, market town centres and village halls in rural areas.
Public access Wifi has taken on more importance as a result of the Covid-19 pandemic which has made us all more reliant on internet services to keep connected, make contactless payments and register contact details for 'track and trace'.
Free public access Wifi also has a significant part to play in supporting struggling high streets, particularly in areas where mobile coverage is poor, and can contribute to supporting health and well-being.
---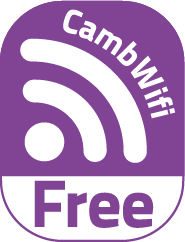 CambWifi
Free CambWifi is already available at around 200 public buildings across Cambridgeshire. This includes all Cambridgeshire Libraries and council offices, public leisure centres, children's centres, community centres and Park & Ride sites.
CambWifi provides a secure, trusted network that is simple to join and used by growing numbers of people to access the internet. We are investigating opportunities and funding to further expand the CambWifi services into more locations across Cambridgeshire and Peterborough.
Find out where you can access CambWifi and instructions on how to join it.
---
City and Market Towns Wifi
Connecting Cambridgeshire is working with the Cambridgeshire & Peterborough Combined Authority and local councils to support Market Towns Masterplans to increase Wifi services in market towns so that businesses, residents, and visitors can access information and make payments online.
CambWifi is live in St Neots Market Square and High Street, St Ives town centre, Ramsey town centre and Huntingdon town centre, in partnership with Huntingdonshire District Council. Read more about the launch of CambWifi in Huntingdonshire market towns.
CambWifi is live in Peterborough city centre in partnership with Peterborough City Council.
CambWifi is now available in Ely city centre and public access Wifi is also being provided in Soham and Littleport town centres in partnership with East Cambridgeshire District Council.
In partnership with Huntingdonshire District Council, CambWifi is now available in some open spaces on the Oxmoor estate.
CambWifi is also available in Whittlesey and March town centres, in partnership with Fenland District Council, since mid-2023.
---
Village Halls Wifi
Connecting Cambridgeshire is extending public access Wifi to over 30* village halls and community buildings in rural areas of Cambridgeshire.
The programme has used partnership funding to provide a limited number of free WiFi packages including installation and subscription fees through the existing CambWifi network.
Following a survey of existing Wifi provision by Cambridgeshire ACRE, halls were asked to express an interest in installing free public Wifi to support their community and/or health-related activities. The survey information, together with public health criteria and technical costings, was used to identify a shortlist of halls that we were able to fund within the limited budget.
Read more about how free CambWifi for rural village halls is helping to keep everyone connected.
Read about Doddington Village Hall, in Fenland, that has been able to re-open safely with the extra benefit of free CambWifi for users
If your village hall or community building does not have CambWifi but would benefit from having broadband installed, we have produced a Short Advice Guide for Village Halls and Community Buildings who want to install their own Broadband and Wifi.
As part of Get Online Week every year Connecting Cambridgeshire works with Cambridgeshire Libraries and Cambridgeshire Skills to signpost people to help available across the county. This is part of a national campaign every October by the Good Things Foundation. Find useful links to help you get online all year round on our Help to get online page.
*Village halls with free CambWifi will include: Alconbury Memorial Hall, Aldreth Community Association, Arrington Assembly Rooms and Institute, Balsham Village Hall (Church Institute), Brinkley Memorial Hall, Benwick Village Hall, Bythorn Village Hall, Catworth Village Hall, Cheveley Community Room, Chippenham Village Hall, Christchurch Community Centre, Doddington Village Hall, Highgate Hall – Elton, Great Staughton Village Hall, Great Stukeley Village Hall, Helpston & Etton Community Association, Ickleton Village Hall, Landbeach Village Hall, Littleport Village Hall, Prickwillow Village Hall, Maxey Community Association, Meldreth Village Hall, Newton Village Hall, Old Weston Village Hall, Quy Village Hall, Stilton Pavilion, Tydd St Giles Community Centre, Whaddon Village Hall, Coates Public Hall in Whittlesey, Wicken (Mission) Village Hall, and Yelling Village Hall.