Introduction
Connecting Cambridgeshire is investigating the use of low-cost sensors as a way to notify council officers and community flood groups about rising water levels.
A pilot project – joint funded by the Cambridgeshire & Peterborough Combined Authority and Huntingdonshire District Council (HDC), working in collaboration with the Flood Risk team at Cambridgeshire County Council – is using smart technology to monitor flooding risks and water levels.
Smart flood sensors offer the potential to provide messages about changes in water levels and are being trialled in vulnerable flood spots across Huntingdonshire to see if triggering early action will help reduce the impact of flooding in the county.
Background
The Cambridgeshire & Peterborough Combined Authority has funded the Connecting Cambridgeshire team to deliver trials of new technologies including sensors.
This Flood Sensor pilot project is jointly funded by Huntingdonshire District Council, who will also be deploying sensors and will be the end user of the data produced, in collaboration with Cambridgeshire County Council as the designated 'Lead Local Flood Authority' Under the Flood and Water Management Act 2010.
Sensors will use the recently deployed LoRa network to collect real-time river flow and water level data to help the District Council identify problem areas. This means that in these identified areas early notifications can be sent to community flood group leaders, so they can assess the local situation and the need to inform localised council-led functions (e.g., in relation to road closures) and community-led projects (such as clearing of gullies) to help reduce the risk of disruption for residents.
Potential locations across Huntingdonshire have already been identified for the trial, with initial sensors being installed in up to six locations across St Neots, starting with the rowing club.
St Ives will be next to benefit from the trial, using sensors to detect and collect real-time river level and flow data in three areas. Followed by Alconbury, Bartlow, Broughton, Buckden and Kimbolton, plus other highway locations with known flooding issues.
The early advice being sent out by the sensors during this pilot project will be separate from the existing flood warning messages received by residents and communities from the Environment Agency*. These local trial messages will not affect or replace the Environment Agency's flood warning service but will complement their current warnings.
It is hoped the pilot project will provide a template to allow more Community Flood Groups to apply to self-fund sensors and the ongoing maintenance needed, which would allow them to better manage and reduce the risk of flooding to keep their communities safe.
In March 2021 funding was approved by Cambridgeshire County Council for a programme of works across Cambridgeshire aimed at increasing community resilience to flooding, and these trial deployments will support his work. Their programme of work has been named the Community Flood Action programme and more details can be found on the county council website.
Project launch
Read about the launch of the project in January 2023 in St Neots.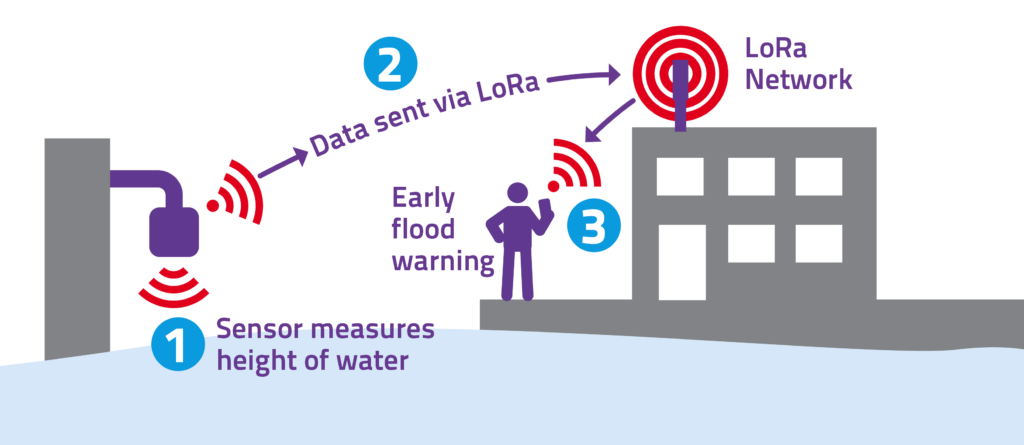 ---
*The Environment Agency provides a flood warning service throughout England and Wales in areas at risk of flooding from rivers or the sea. Using the latest available technology, staff monitor rainfall, river levels and sea conditions 24 hours a day and use this information to forecast the possibility of flooding. If flooding is likely alerts and warnings are issued to the public and risk management authorities, like the county and district councils, to respond and carry out actions to protect infrastructure or homes.