Free public access CambWifi is currently provided to over 200 public buildings and open spaces across Cambridgeshire and Peterborough. The network is being extended to market towns and village halls in rural areas to improve digital connectivity.
CambWifi is provided by Cambridgeshire County Council through the Connecting Cambridgeshire programme, with support from District Councils and additional funding from Cambridgeshire & Peterborough Combined Authority to help keep businesses and communities connected.
This secure network is free and simple to join, allowing people to work flexibly, access public services, shop and pay bills online, and keep in touch with family and friends.
From September 2022 the log in process has been made simpler, so it's now much easier to access CambWifi.
How do I login?
It's simple and safe to register for CambWifi in 3 easy steps:
Find CambWifi_Public in your Wifi settings and connect.
Read and accept the Terms.
Click the 'Log In' button.
You'll now be automatically connected whenever you're in a CambWifi location.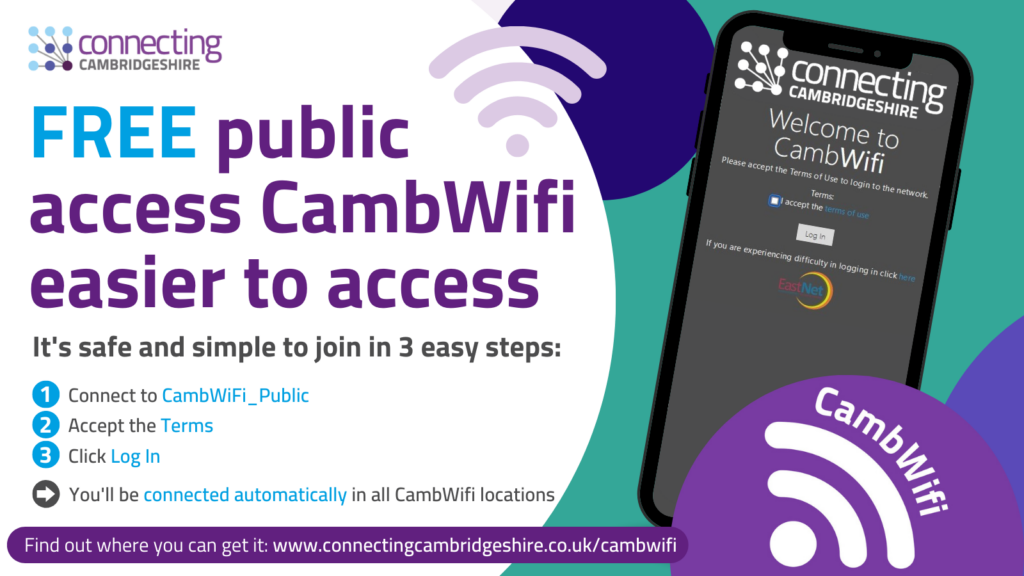 Please note the new login process will only need to be completed every six months.
Where can I find free public access WiFi?
How to use the map:
Use our coverage map to see where free CambWifi is available. You can search for an address or postcode in the search box at the top or move around the map with your mouse (or fingers). The tick boxes allow you to search for where public Wifi is available in buildings or open spaces. You can then zoom in and click on the locations for more details.
Key:
Purple public WiFi icon – free CambWifi available in public buildings
Pink Spaces – streets and open spaces covered by free CambWifi (in Cambridge city the pink spaces are covered via The Cloud).
Places with free CambWifi include libraries, council offices, children's centres, sheltered housing, leisure facilities, community centres, Park and Ride sites, open spaces, city and market town centres, and village halls.
Use the side arrow to collapse the search box, so you can see more of the map, or click the expansion button (bottom right) to view the map in full-screen mode.
---
Who's responsible for the free Wifi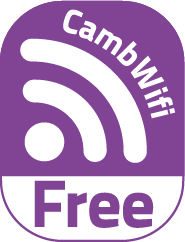 Free CambWifi was originally set up by Cambridgeshire County Council. It was then extended with funding from the Government's SuperConnected Cities project to improve superfast broadband connectivity and expand digital connectivity in Cambridge and surrounding economic areas of South Cambridgeshire.
The University of Cambridge has also invested in the network, providing access via The Cloud in open spaces, and extending its existing education Wifi networks to all Cambridge and Anglia Ruskin students, staff and visiting academics.
The Connecting Cambridgeshire programme is currently working with Cambridgeshire & Peterborough Combined Authority, local councils and partners to increase free public access Wifi provision in public buildings, open spaces and retail centres in cities and market towns, whilst increasing availability in active village halls and community buildings in rural areas.
---
Questions
If you have any problems connecting to CambWifi or other queries about public access Wifi please visit our FAQ page.