October 2021
Riverlite break through their own glass ceiling
IT company Riverlite used digital technology grant funding to bring in external consultants to overhaul their existing digital platform and implement new services to their existing systems to help with end-to-end automation.
Based in St Neots, the company provides managed IT services for small-to-medium sized businesses. Their team of specialists and support service professionals are the IT backbone for many Cambridgeshire-based and national organisations in the charity, education, health care and private sectors.
Pre-pandemic, Riverlite had a workforce of 20 but had hit a "glass ceiling" with growth because of the lack of automation of its primary internal digital business system. They were relying on spreadsheets and human interaction between departments to run the business – which became tricky when people had to start working from home.
The company had never applied for a grant before under the assumption they wouldn't be eligible, but after receiving help at the start of the pandemic through the Combined Authority, they heard about the 'Digital Technology Grants for Business' scheme. They used the funding for a project to bring in an external IT consultancy to provide guidance on how their existing system could be better configured. They were also able to implement new services thanks to another consultation and brought in an external expert to help with digital automation.
Paul Oggelsby, Riverlite Managing Director said: "The grant came at the perfect time when we were looking to invest in ourselves. The scheme really was brilliant for us – it helped us take the plunge to invest in external help we wouldn't have done without the opportunity."
The company, which managed to almost double its workforce during the pandemic due to the demand on IT and the sky-rocketing rise of people working from home, has also been able to vastly improve the key areas they needed to with the assistance of grant funding.
Paul went on to explain: "Off of the back of the project we hired someone to focus on process and system improvement, and the reality of the project we undertook was that it has kick-started the changes we need to continually make to ensure the business can scale successfully.
"This digital technology grant project has led to the end-to-end automation of our processes and we're now realising the benefits we wanted to see. It will enable Riverlite to compete with larger competitors and lift the current glass ceiling on our growth ambitions."
Mobile auto electrician future-proofs his business
Mobile auto electrician, Butlers Auto Electrical Ltd, based in Huntingdonshire, embraced the opportunity to invest in digital technology and used a Digital Technology Grant to buy the latest diagnostic equipment for hybrid and electrical vehicles together with a laptop to develop the business's online presence.
David Butler, Director, said: "I did feel quite daunted and apprehensive at the thought of applying for the grant but to be honest it really was very straightforward. The vast majority of electric vehicle specialists are workshop based. However, as my business is mobile-only, I am now in an even better position going forward."
Car repairs are currently a mixture of mechanics and diagnostics. With more and more people buying hybrid and electric vehicles (EVs), along with the Government's 'Road to Zero' strategy (the long-term goal to transition to zero-emission road transport and end the sale of petrol and diesel cars by 2030), diagnostic work is increasing.
Generating an online presence had never been at the top of the 'to do' list as Butlers Auto Electrical relied on word of mouth, but during the pandemic David quickly picked up on the fact that more and more people were searching online for auto electrical repairs – so along with being able to buy a diagnostic scanner, creating a website became of utmost importance.
David went on to add: "We've been able to future proof the business, which is getting noticed for being able to deliver faster, more accurate results than most garage workshop diagnostic equipment."
"This investment will most definitely increase productivity as it will generate a greater customer base, thus greater revenue, making for a very competitive vision in the future. I'm very happy with the whole process indeed."
Technology grant lights the way for joined-up digital marketing campaigns
A digital technology grant helped NET LED complete the transition from having a field-based sales team to a true online digital sales and marketing business.
Based in Swavesey, NET LED supply LED lighting to electrical wholesalers across the UK and pre-Covid they had 11 sales managers on the road. With over a decade of experience using a traditional style of selling that was all about personal contact, the businesses suddenly needed to adjust overnight to a new environment with reduced demand for in-person visits.
The pandemic forced the business to change to be a digital and online supplier only – but they wanted to retain an efficient personal touch for customer service and after-sales support.
Oliver Bubb, Managing Director for NET LED, said: "The grant helped us massively. It allowed us to upgrade our existing software and purchase new hardware so we could move our sales team in-house. We can now offer real-time responses to customers both verbally and digitally which has enabled the conversion of sales without the need for face-to-face meetings."
As an example, when NET LED send out a digital marketing email that is clicked on to go through to their website, they now know exactly which products a customer is interested in and can automatically send off an associated email about those products and trigger a follow up call from a member of the internal sales team via their new CRM system.
Oliver went on to add: "The project has enabled us to have fully joined-up digital marketing campaigns using real time data to interact with customers. With strategic planning we have successfully been using the data proved by our new systems to inform and create telesales campaigns so we can offer tailored marketing services to our customers."
Wiser Environment expands team and improves customer experience
Environmental consultancy Wiser Environment Ltd, who have operational sites in Thetford, Huddersfield and their Head office in St Ives, are experts in the field of waste management. They provide specialist recycling services to both the public and private sector. The company had long intended to update their website so when they heard about the digital technology grants for business scheme the opportunity was obvious.
The pandemic forced a lot of companies to look at how they reach their target audience. The monumental increase in demand for a plethora of online services throughout the national lockdown prompted companies to improve on their current marketing. Wiser had already realised that to better engage with potential customers and compete in their respective field, they needed improved information about their abundant functionality available on the website.
Wes Carrington, Wiser Recycling's Business Development Manager said: "The company already had an excellent reputation, but as we continued to grow from referrals, the more difficult it became to continue that growth without improving the marketing of the business.
"The grant funding helped us to develop our on-line presence and our new website allows clients to interact with us in multiple ways. We are now offering our customers the ability to book waste collections online and this new service alone has generated £7,000 revenue since May 2021.
The project involved the design and build of a modern website that enables customers to browse a catalogue of Wiser's recycling services and reuse options. It can provide online quotes, has an ecommerce functionality and a community forum for customers to log comments and book collections. The website now also has a live-chat feature and has been optimised to appear in search engine results.
Wes added: "Overall, we wanted to use the grant funding to build a website that can access new technologies and adapt our operations to a post-COVID trading environment. Specifically, the grant funding was used to commission services from a local technology company to design and build our new website.
"The grant allowed us to smoothen the hump to improve the business. The project is still ongoing, and we are confident that it is making good progress. In preparation for the anticipated growth and to harness new business opportunities, we have expanded our team with five new full-time equivalent job positions. Furthermore, we expect to grow this further by another 10 within the next 6 months."
Spurred on by Connecting Cambridgeshire, the St Ives Wiser office looked at other ways they could modernise their business and realised they had an option to upgrade their broadband package – another crucial factor to consider when running a business that they had previously highlighted but not devoted the time to. As a result, the company researched the availability and have now also successfully upgraded their broadband speed.
Check out the Connecting Cambridgeshire Broadband FAQs page for advice about how to upgrade your broadband.
The digital technology grant scheme is now closed and all available funding has been allocated. Businesses that have not been able to apply for the scheme or would like to explore other options for business support are advised to contact the CPCA Growth Hub.
---
September 2020
Gigabit broadband boost for rural Cambridgeshire businesses and homes
Rural businesses and homes in the Cambridgeshire Fens have speeded up the delivery of fast fibre broadband to their doorsteps using the Government's Gigabit Broadband Voucher Scheme for rural areas.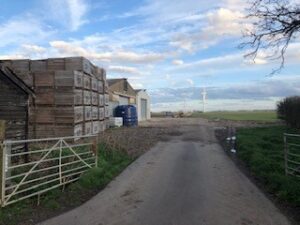 The businesses including a farm office, wind electricity supplier, pest control, kennels & cattery, and home-based photographer, together with nearby households were among the first in the county to apply for the new rural Gigabit Vouchers as part of a group scheme.
Situated in farmland between Chatteris and Warboys, their remote premises are among the 'hardest to reach' with fibre broadband as they are a long way from the nearest cabinet, so currently use satellite or mobile to access the internet.
Rather than wait for the next phase of the superfast broadband rollout, the group were advised by Connecting Cambridgeshire to form a Community Fibre Partnership with Openreach to find out how much it would cost to connect them using the latest Fibre to the Premise (FTTP) technology bringing superfast broadband up to 330mbs.
Offering up to £3,500 per business and £1,500 each for residential premises, the higher value gigabit vouchers for eligible rural areas meant the applicants only had to contribute £100 each towards the total installation costs of just over £35,000 to secure delivery of full fibre within a year.
Businesswoman Anna Whittome, who runs a farm office and Whittome Renewables generating wind power for supply to the grid and local farm properties, said: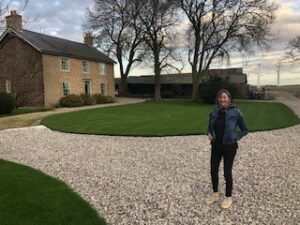 "We were very lucky that the rural Gigabit Vouchers for groups came in just at the right time. Initially the huge cost of the project was way out of reach for us. However, the Community Fibre Partnership team were very helpful and Openreach came back with a revised quote and a plan for Fibre to the Premises (FTTP).
"I approached everyone who was eligible and most people wanted fibre broadband, but it took a lot of chasing to get all the voucher applications completed and provide the business evidence Openreach needed. I also had to sign the contract using my business to agree that everyone who had applied for vouchers would place an order for FTTP services for 12 months once it was live.
"I took the risk because having fast fibre broadband will make a big difference to us when it comes in the next few months – not only for our businesses but also being able to stream films for entertainment and connect whenever we want to."
Kasam Hussain, Openreach's partnership director for Cambridgeshire, said:
"We are doing a huge amount of work across the UK, including Cambridgeshire, to make full fibre available. Not only is it much faster, but it's also more reliable and future-proof for generations to come. Our Community Fibre Partnership programme is a huge success, enabling rural communities like in the Fens to club together and join forces with us to make fast fibre broadband available.
"Across the UK, we've joined forces with more than 1,300 communities in this way, which is more than 122,000 homes and businesses. Around 400 of those have used the government vouchers. Anyone who thinks they could benefit from this approach should visit the Openreach website at openreach.co.uk."
Use our postcode checker to see if you can get superfast broadband, and find out about Gigabit Broadband Vouchers for groups in rural areas.
---