The Digital Technology Grant Scheme is now closed and all available funding has been allocated. Businesses that have not been able to apply for the scheme or would like to explore other options for business support are advised to contact the

CPCA Growth Hub

.
In early 2021 Connecting Cambridgeshire secured funding from the European Regional Development Fund and Cambridgeshire & Peterborough Combined Authority to offer a grant scheme that would support local businesses to grow and increase productivity through new or improved digital technology solutions.
Digital Technology Grants for Business
The Digital Technology Grants for Business scheme will support the growth and resilience of small and medium-sized enterprises (SMEs) in Cambridgeshire and Peterborough. The funding is intended to allow them to make productive use of digital technologies – enabling them to grow and respond to challenging economic circumstances, by investing in new equipment, systems and support.
SMEs based in Cambridgeshire and Peterborough with plans and ideas to grow, improve or sustain their business using digital technology can apply for a grant between £2,000 to £10,000 to cover up to 80% of the total cost of their project.
What is the Digital Technology Grants for Business scheme?
Digital Technology Grants for Business are intended to support improvements in information and communications technology (ICT) to aid growth, harness future opportunities and improve resilience in the case of future economic disruption or other pressures on current business models.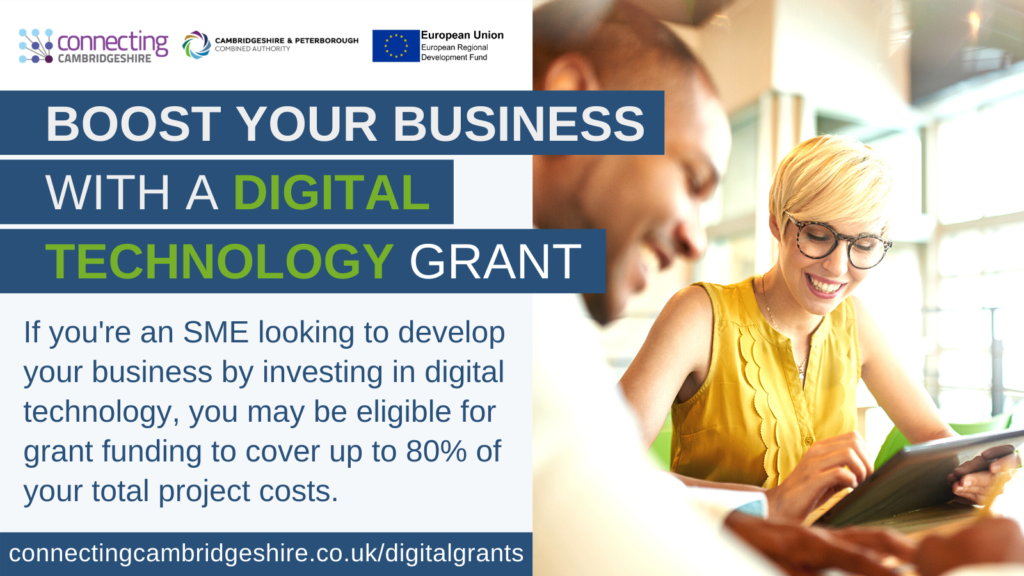 Grant amount and match funding
SMEs based in Cambridgeshire and Peterborough could apply for £2,000 to £10,000 of grant funding to cover up to 80% of their total project costs (excluding VAT):
Businesses must be able to match fund at least 20% of their project total to be eligible for a grant. This means that projects will need to have a minimum value of £2,500 to qualify. There is no maximum value to the project, but the largest amount of grant funding that can be requested is £10,000.
SMEs will need to be able to cover the full cost of the project before claiming the grant element, so it is vital that all funds are in place to cover these costs before applying:
Businesses will be expected to fund and evidence 100% of the project cost up-front. Up to 80% will then be reimbursed to them, as set out in their grant agreement. Ultimately, the business will have match funded at least 20% of the total project cost (excluding VAT).
Eligibility
The full criteria can be found in our FAQ section below.
Eligible businesses were able to apply for funding from February 2021 until the end of August 2021.
How to apply
Businesses needed to complete an online form to confirm their eligibility – see 'How do I apply?' in the FAQ section below.

FAQs
What is the eligibility criteria?

You must:

Employ less than 250 full time equivalent (FTE) employees and have either a turnover ≤ €50 million or a balance sheet ≤ €43 million at the time of full application
Have been trading for at least 12 months at the time of application.
Fund and evidence 100% of the project cost up front from your own resources, ultimately providing 20% match yourself. You must not use European Union funding as a contribution to your 20% match.
Not make any project purchases using personal credit cards, cash or cheques as these are not an eligible payment method
Have a project valued between £2,000 and £12,000.
Be in an eligible industry (check the codes for Company House SIC eligibility)

I operate as a "sole trader", can I apply?

Yes, but only if you have been trading for at least 12 months at the time of application.

My business has been operating at a loss and would like to apply for the grant to help the business recover, is that possible?

I am a newly established company, can I apply?

You will need to have been trading for at least 12 months at the time of application.

What can I use the grant for?

For example (this is not an exhaustive list), grants can be used by businesses to support:

Scaling-up existing on-line capability and provision;
Diversifying products and business models;
Enhancing infrastructure and equipment;
Enhancing website and software development;
Developing e-commerce and online sales;
Accessing and developing new markets;
Developing new products and services;
Developing supply chain and other business efficiencies (e.g. integrating business systems to streamline ordering, stock control, billing, dispatch and delivery);
Developing new ways of working;
Enhancing staff capability (e.g. by adopting new systems to support remote and collaborative working).

Is there anything the grant can't be used for?

There is no definitive guidance on which costs are ineligible. However, the following cannot be supported by grants:

Reimbursement of goods / services already purchased prior to the date of a grant offer letter;
Repayment of existing loans or debts;
Recurring revenue costs (including: salaries, pensions, stock, rent, utility charges, service charges subscriptions, insurance, tax, recruitment fees, website hosting etc.);
Line rental and on-going maintenance costs associated with implementing a superfast broadband product;
Repairs and maintenance to existing ICT equipment;
Like-for-like replacement of existing items;
Any second-hand item which was previously purchased using grant funding;
Mobile phones;
Accredited training or the development or implementation of accredited training materials;
Financial charges, such as bank charges and interest;
Enterprises in difficulty;
Enterprises subject to an outstanding order for the recovery of illegal State Aid;
Fines;
Activities that may bring any of the partners into disrepute;
Costs associated with gaining statutory permissions or consents;
Delivery charges;
VAT.

This list is not exhaustive and specific items can be checked for eligibility by the Digital Technology Grant Management Team.

Who can advise my business on the digital technology we need to grow etc?

How do I apply?

The scheme is now closed. Applicants needed to submit an Expression of Interest Form. Once submitted, the eligibility of the business and the project was checked against the criteria for the grant (published in the applicant guidance). If the business or project was not eligible at this stage of the process they were advised accordingly. If the project was successful, businesses were contacted by the team and provided with a full application form to complete.

When and how will I receive my grant?

If your project is eligible for support through the Digital Technologies Grants scheme, you will be contacted by the Digital Technology Grant Management Team and invited to submit a Full Application.
All grant applications will then be considered by a Programme Board and the applicant informed of the outcome in writing within 15 working days. If an applicant wishes to appeal the decision, they will need to contact the Grant Managing Authority who will outline the appeal process.
If the application is successful, the Grant Managing Authority will notify applicants in writing in the form of a Grant Offer Letter / Agreement. Any award will be made based on the terms and conditions outlined within the Grant Offer Letter / Agreement.
Once received, applicants will have 14 days from the date of the Grant Offer Letter / Agreement to sign and return the Acceptance of Grant Funding Agreement acknowledgement to confirm acceptance of grant.
Applicants will need to submit their grant claim in accordance with the terms and conditions set out within the Grant Offer Letter / Agreement and any subsequent approved change requests.
Applicants must submit the claim for grant assistance retrospectively, by the date(s) stated in the Grant Offer Letter / Agreement, evidencing 100% of the costs incurred.
The grant (of up to 80%) will only be paid once project expenditure has been defrayed and evidenced, using the criteria listed in the Applicant Guidance Notes.

What if my project ends up costing less than the grant applied for, do I have to give it back?

If your project costs less than expected, up to a maximum of 80% of the eligible components of the project cost can be claimed subject to the required evidence being provided. This means that you will not have to pay anything back, but you will not receive more than 80% of the project cost in total.

Will you need to see proof of the 20% funding paid by the business being spent?

Yes. The applicant must be able to fund 100% of the project upfront. You will need to provide invoice and bank statement evidence to demonstrate that you have done so, and 80% of the eligible costs will be paid to you as your grant. This amount will not exceed the value stated in your Grant Award Letter. The remaining 20% evidenced by the invoices/bank statements will be confirmation of the match funding provided by the business.

Can I apply for more than one project/grant?

Not in the first instance, however we assessed this on a case by case basis.

How long do I have to deliver my project and claim the grant?

Wherever possible we would expect the money to be defrayed and claimed as soon as possible, but within six months of a returned signed grant offer letter.
Contact us:
For more information about applying for grant funding please read the applicant guidance or contact the Digital Technology Grant Management Team on digital.grants@cambridgeshire.gov.uk or 01223 699229.