Faster fibre broadband is a 'godsend' during Covid-19
Getting high speed fibre broadband just before the Covid-19 outbreak began has been 'a godsend' for a family living in rural South Cambridgeshire.
Derek Risk was only one week into his new job as the IT Director for a motor retail company, based in Milton Keynes with offices across the country, when the lockdown started and has been working from home ever since.
In early March 2020, the household had finally been able to upgrade to the latest Fibre to the Premise (FTTP) technology, which was installed by an Openreach engineer, bringing broadband speeds of up to 300Mbps.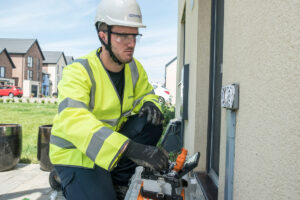 Fibre broadband was rolled out to a small cluster of homes on the edge of Ickleton village through the Connecting Cambridgeshire digital connectivity programme, led by Cambridgeshire County Council, which has now reached over 97.7% of homes and businesses. The programme is working to fill remaining gaps in coverage in harder to reach areas as well as encouraging and supporting commercial fibre delivery across the region.
Derek, who upgraded to the highest speeds available to be 'future proof', said: "It has been a godsend and quite life changing to be honest. I've been working from home on video calls all day, which wouldn't have been possible pre Covid-19. My stepson is back from University and is a keen gamer so we need lots of capacity!"
The faster speeds and capacity mean all four members of the household can access the Internet at the same time for video calls, streaming movies, shopping and gaming, which was impossible previously when they could only get 8Mbps.
Derek added: "As an IT Director I have seen the potential to reduce office space if more of us work remotely. The Covid-19 situation has been a trigger for us all to use technology to work more flexibly.
If you want to upgrade your broadband speed, visit the Connecting Cambridgeshire Getting better broadband webpage to check if you can get faster speeds and follow the steps to upgrade, or find out about the options available.
---
Gigabit broadband boost for rural Cambridgeshire businesses and homes
Updated September 2020
Rural businesses and homes in the Cambridgeshire Fens have speeded up the delivery of fast fibre broadband to their doorsteps using the Government's Gigabit Broadband Voucher Scheme for rural areas.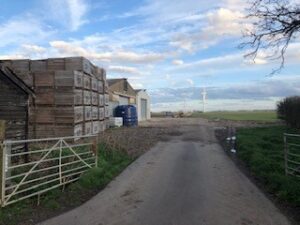 The businesses including a farm office, wind electricity supplier, pest control, kennels & cattery, and home-based photographer, together with nearby households were among the first in the county to apply for the new rural Gigabit Vouchers as part of a group scheme.
Situated in farmland between Chatteris and Warboys, their remote premises are among the 'hardest to reach' with fibre broadband as they are a long way from the nearest cabinet, so currently use satellite or mobile to access the internet.
Rather than wait for the next phase of the superfast broadband rollout, the group were advised by Connecting Cambridgeshire to form a Community Fibre Partnership with Openreach to find out how much it would cost to connect them using the latest Fibre to the Premise (FTTP) technology bringing superfast broadband up to 330mbs.
Offering up to £3,500 per business and £1,500 each for residential premises, the higher value gigabit vouchers for eligible rural areas meant the applicants only had to contribute £100 each towards the total installation costs of just over £35,000 to secure delivery of full fibre within a year.
Businesswoman Anna Whittome, who runs a farm office and Whittome Renewables generating wind power for supply to the grid and local farm properties, said: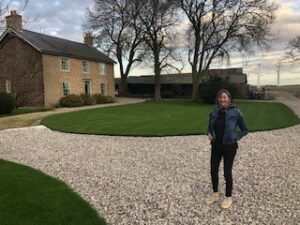 "We were very lucky that the rural Gigabit Vouchers for groups came in just at the right time. Initially the huge cost of the project was way out of reach for us. However, the Community Fibre Partnership team were very helpful and Openreach came back with a revised quote and a plan for Fibre to the Premises (FTTP).
"I approached everyone who was eligible and most people wanted fibre broadband, but it took a lot of chasing to get all the voucher applications completed and provide the business evidence Openreach needed. I also had to sign the contract using my business to agree that everyone who had applied for vouchers would place an order for FTTP services for 12 months once it was live.
"I took the risk because having fast fibre broadband will make a big difference to us when it comes in the next few months – not only for our businesses but also being able to stream films for entertainment and connect whenever we want to."
Kasam Hussain, Openreach's partnership director for Cambridgeshire, said:
"We are doing a huge amount of work across the UK, including Cambridgeshire, to make full fibre available. Not only is it much faster, but it's also more reliable and future-proof for generations to come. Our Community Fibre Partnership programme is a huge success, enabling rural communities like in the Fens to club together and join forces with us to make fast fibre broadband available.
"Across the UK, we've joined forces with more than 1,300 communities in this way, which is more than 122,000 homes and businesses. Around 400 of those have used the government vouchers. Anyone who thinks they could benefit from this approach should visit the Openreach website at openreach.co.uk."
Use our postcode checker to see if you can get superfast broadband, and find out about Gigabit Broadband Vouchers for groups in rural areas.
---
Long wait for fast fibre broadband pays off
Patience, persistence and partnership has paid off for residents in the large Cambridgeshire village of Houghton & Wyton, who can now get the ultrafast broadband speeds using the latest Fibre to the Premise (FTTP) technology.
Broadband Champion Amanda Orchard worked with the Connecting Cambridgeshire programme, led by Cambridgeshire County Council, and her local County Councillor Ian Bates to tackle the slow broadband speeds, which were making daily life difficult for residents.
Most homes in the village could access superfast broadband when two new fibre cabinets were installed by Openreach, but around 100 homes missed out because they were too far from the exchange at St Ives on aging copper lines.
"Working from home was practically impossible for people as was accessing Wifi for streaming, internet access or services on demand," said Amanda, who frequently experienced her own family's frustration at not being able to get a decent internet connection.
To gain a true picture of what was happening, Amanda conducted a survey of all residents asking for speeds and information, which Connecting Cambridgeshire passed to Openreach to investigate how to resolve the complex issue.
A plan of action was proposed by Openreach with funding agreed with Connecting Cambridgeshire to deliver fibre broadband – capable of up to 300Mbs – to the remaining homes and businesses, that would otherwise not be able to get it because it was not commercially viable.
The plan was explained through a public meeting which Cllr Bates attended alongside representatives from Connecting Cambridgeshire and Openreach, to address residents' questions and frustrations.
It took a year to complete as underground and overhead solutions had to be found to overcome a variety of challenges, including private roads and multiple occupancy dwellings, which all needed planning, surveys and civils work.
Amanda said: "Working with Connecting Cambridgeshire helped achieve something which felt almost impossible at the very beginning…access to 21st century broadband! We worked very much as a partnership to highlight issues and resolve problems, of which there were lots along the way. Having one point of contact meant that communication was relatively streamlined and I kept everyone updated.
"I cannot stress enough the importance of keeping people informed so they are aware of progress and timings. It was also important for people to understand the options available to them and the current choice of providers of FTTP services – which sometimes involved switching."
Councillor Bates said: "I am delighted that residents can now access superfast (and faster) broadband in Houghton, and thankful to broadband champion Amanda Orchard for her tireless work, which helped to achieve this."
 Once the network was live, residents booked via their Internet Service Provicer (ISP) for the fibre connection to be installed directly to their premises by an engineer.  And the wait was worth it – as these residents' comments show: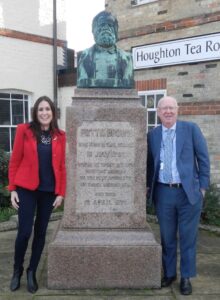 "I chose to go with the 150mb option from Zen….I am very happy with the way that FTTP has gone. It is a little expensive, but I expect that to improve as more providers come into the market.  I work from home one day a week and the fast and reliable internet has been very beneficial."
"Just want to say thanks for getting FTTP sorted out for the village – we got ours installed a couple of weeks back and the speed is great." Ian Percy
"Everything in our house is connected, from the lights to Alexa, so when the speed was really slow it caused us huge issues.  The increase in speed has improved my conference calls, file transfers, and streaming speeds for everyone in the house; it has had a real positive impact for us!"  Matthew Kelly
"The installation was really quick, only a few days, and was all done online with a deal on price agreed.
The results are excellent and the speed is almost instant….a huge improvement and this has stopped all the jokes from our family who think we had a steam powered system! Thanks for all your perseverance and updates and we feel we are now in the 21st century!"  Pete and Maggie Whitehead
"It's wonderful!!  We can at last watch streamed TV – the Murray/Williams Wimbledon match in glorious UHD was AMAZING, almost as good as being there!  We have recently become grandparents so we can video stream our daughter and grandchild.  Overall, it has made a substantial difference to us and we are very pleased eg. – with VOIP my wife can talk to her Australian cousin for about 2p a minute!" Chris Moss
"It makes a huge difference to me as I work from home a lot – it means my videos calls don't drop out, it means I can download large documents easily and quickly.  In fact there are hundreds of things I do a day that are just a lot easier as a result." Jonathon Palmer
"I was so pleased to see Terry the engineer that I invited him for Christmas Lunch! He now stops me whenever he sees me!" Amanda Orchard.

---
Boom! Ultrafast broadband reaches the countryside
Barry Johnson became the broadband champion for the village of Arrington soon after he and his young family moved to South Cambridgeshire.
As a software consultant with international clients, Barry was so keen to get superfast broadband to his rural home that he even offered to use his own digger to dig a trench for the fibre optic cable!
Working with the Connecting Cambridgeshire team and BT, Barry helped engineers plan the best solutions to bring superfast broadband to the area, and showed residents how to get connected – raising over £250 in donations for the village school in the process.
Most of Arrington went live with superfast broadband in 2016, however it took a bit longer – and the latest fibre to the premise technology (FTTP) – to reach Barry and his neighbours, who live along a farm lane outside the village.
But the wait has paid off for the Johnson family, who can now get one of the fastest internet connections available – at 300Mpbs – which has transformed their work and home life.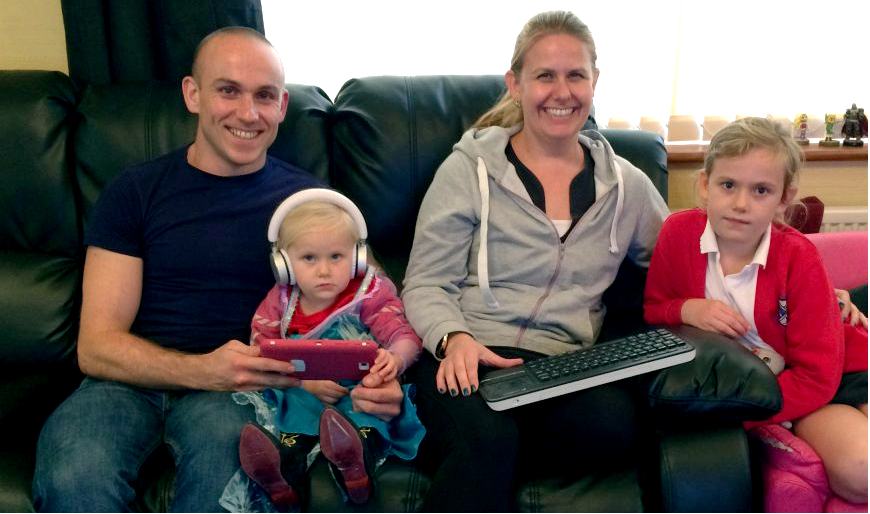 Barry said: "It's great that we have now 21st Century internet and can enjoy the digital services that our counterparts in more urban areas have been able to enjoy for a while! I am now proudly the person with the fastest connection out of all of my friends. Honestly, downloading stuff just makes me laugh now, we can stream films, and there is no delay on my business calls."
His wife, Genine, who is treasurer of the school PTA and runs a soft play hire business from home, said: "It was a nightmare before, now I can upload photos to my website, sort out childcare vouchers and use ParentPay to sell tickets for school events. The girls use the Internet for their homework, and to play educational games."
Faster fibre to your door
Properties that have waited longer for fibre broadband are increasingly benefiting from future proof technology bringing ultrafast speeds of up to 300Mbps.
Fibre to the Premise (FTTP) technology is being used for the rollout in rural areas where it is more effective to run the fibre optic cables directly to homes and businesses, via overhead lines on poles.
Residents can choose the fibre services package and speeds they need, regardless of the technology. However, this is a relatively new technology so not all service providers offer FTTP services yet.
Find out more about FTTP on the Connecting Cambridgeshire website at www.connectingcambridgeshire.co.uk
---
Broadband Champion's efforts rewarded with 'life changing' superfast coverage
June 2017
Many more rural Cambridgeshire communities have gone live with fibre broadband bringing 'life changing' fast internet access for many residents and home-based businesses.
Record numbers of residents across the county are upgrading to make the most of speedy connections for work, learning and leisure – but it's not automatic, you have to subscribe to a fibre broadband package to get it.
Residents in the neighbouring villages of West Wickham and Carlton have described getting uperfast broadband as 'life changing' for their rural communities.
Alex Schuilenburg, West Wickham Broadband Champion, said: "Residents and businesses are now able to experience and enjoy the facilities and benefits of the modern internet. Business professionals have the option of working from home, and arguments as to who has "stolen the internet" or "it's my turn on the internet" have disappeared from households. Students are no longer dependent on family and friends in nearby villages to provide access to the internet to research and access material for their assignments and homework, or simply to submit these online."
Getting superfast broadband means sole trader Tracey Cowell can download large PDF files for her home-based editorial services business, while her family can use multiple Internet devices at the same time.
Tracey said: "The consistently high speeds and reliability of superfast broadband has removed my day-to-day concerns about connectivity and allowed me to concentrate on the key focus of my business – responding efficiently to clients' needs."
'Bandwidth wars' have ended in the Dicks' household in West Wickham with three teenage gamers and working parents now able to share fast, reliable Internet access.
Jo Dicks said: "With three teenage boys in the house and two full time working parents good internet access is a modern necessity. We have at long last been able to join the majority of people in the UK in the 21st century. Peace has broken out in the house. Is this the end of sibling bandwidth wars? Hopefully it is and we will now have a reasonable and reliable service"
Julie and Brian Marshall and their daughter Olivia can now work and study at home, without having to drive into Cambridge to access the Internet.
Julie said: "Having the new fast broadband service has literally transformed our lives! The previous service was so poor that we were even considering moving house!
"We no longer have to drive into Cambridge to get a service and our daughter can do her homework, which is increasingly online and using the Internet. This demonstrates how important having a decent broadband service is to people living in rural locations."
The Connecting Cambridgeshire programme is on track to bring superfast broadband access to 95% of premises across Cambridgeshire and Peterborough by the end of 2017. Plans are underway for remaining areas of the county to be covered in follow-on phases of the rollout starting this summer and running until 2020.
The programme is working with BT and Openreach using a range of solutions including Fibre to the Cabinet (FTTC) and Fibre to the Premise (FTTP) technology.
Find out why Alex Schuilenburg became a Broadband Champion for his area in the video below:

---
Flexible working avoids congestion headache
Taking simple steps to work more flexibly and avoid rush-hour traffic has saved a Cambridge commuter's time – and his stress levels.
With the daily journey to work in Cambridge regularly taking twice as long as it should because of peak time congestion, Development Manager Gavin Watton tried a new approach.
Gavin leads a team at world-leading software company AVEVA's Cambridge Headquarters on Madingley Road, so he's used to problem-solving with colleagues around the world, often via Skype.
Living in St Ives meant the 15-mile journey to Cambridge was taking over an hour by car, including the frustration of sitting in traffic jams at each end.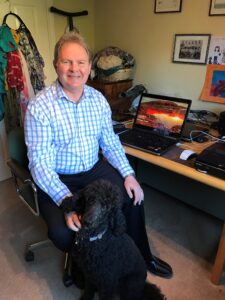 Gavin's situation was compounded by an injury which meant he could no longer cycle to the office, as well as the fact that the Guided Bus did not go near enough to his workplace.
He explained: "It got to the point where I had become extremely weary with the commute to and from work, so I decided to do something radical. I am fortunate in my job that I can work flexibly, so I changed my approach to the working day.
It is quite easy really; I get up early to walk the dog and then begin my working day at home from 7.30am for an hour or more. I then leave home around 9am once the school traffic has cleared. This means I can get to work in about 30 minutes, which is what it should be! Then during my commute, I just have a placeholder in my calendar between 9am and 10am with an out of office message that explains to colleagues that I am travelling to the office."
"It's working well and hasn't caused any problems so far. Occasionally I do have to get into the office earlier, so I just live with the odd annoyance of commuting on those days. Going home later also means I avoid the evening rush-hour.
Having a good broadband connectivity in St Ives, with the added benefit of being able to login remotely to my work systems and use Skype have also helped me to work more flexibly and continue to work productively, regardless of my location."
"I think if more employers allowed their employees to work flexibly, within reason of course, fitting in with the respective business needs, it would help to reduce the city's congestion problems."
---
Superfast saxophone lessons
A leading saxophonist who uses superfast broadband to teach music students worldwide from his Cambridgeshire studio has won gold in the Cambridgeshire Digital Awards 2016.
Dan Forshaw of Cambridge Saxophone won the 2016 Best Online Retailer award for his innovative use of digital technology to give music lessons worldwide.
Faster internet access means Dan can offer saxophone lessons via Skype and video blogs to students as far afield as Antarctica, Brazil, Egypt and Greece.
He was able to upgrade to high speed fibre broadband for his Cambridge Saxophone business with the help of the Connecting Cambridgeshire programme.
His website features high quality video content to support his innovative approach to teaching students both online and face-to-face, using the latest digital technology.
Dan explains: "High speed broadband is key to the teaching methods I have developed such as Skype and video lessons. Some students were sceptical at first but now they love the convenience of being able to study wherever they are in the world.
"It has changed my teaching style for the better, as I can use the technology to see and hear what they are playing, as well as sharing screens to make notes or explain techniques.
Learning from a distance has brought positive results for many students, for example, James got a Distinction in his Grade 5 saxophone exam – having flown in from Greece to take the exam in Cambridge and meet Dan in person for the first time.
Dan, who also teaches saxophone at Cambridge University as well as performing across the UK and Europe, said: "It is definitely the way forward. My aim is to inspire students and having a good broadband connection means I can reach more people."
---
Proof that high-speed fibre is the "mummy" of all broadband
Nigel Strudwick, a member of the University of Cambridge, and his wife, Helen, associate curator of Egyptian Antiquities at the Fitzwilliam Museum in Cambridge, have found that the arrival of superfast broadband in their home village of Whaddon has provided a major boost for their studies and research.
Upgrading from internet speeds of 2 megabits per second (Mbps) to 53 Mbps has allowed them to collaborate on academic projects and work more closely with colleagues internationally. It has also helped with more day-to-day activities, such as completing tax returns and computer software updates.
Prior to the upgrade, both Nigel and Helen found doing any collaborative work or completing books with colleagues overseas and publishers in the UK was a real challenge. Nigel explains: "My wife had to complete an exhibition catalogue for the Fitzwilliam Museum shortly before our fibre broadband went live, and while she did some of it at work using the University network, she worked from home to be able to concentrate properly.  Getting 60-100Mb high resolution image files to and from the servers was pretty tough. We had to leave the download running overnight and even then, by morning, it would frequently have just timed out."
Contrast this with Nigel's own book which he has just completed, with the fibre broadband enabled. Nigel says: "I've been able to get extra images with ease, and I've been swapping proofs and drafts comfortably with contributors in the US, Egypt and the UK. The final files totalled about 250Mb and these were easily uploaded via Dropbox to transfer to the publisher. Now, the faster broadband saves us hours; we don't have to wait anymore and doing collaborative work is straightforward. We will go to the computer for anything, knowing that we should get it pretty quickly, and we feel far more a part of the online world, and closer to our colleagues abroad. I also remotely supervise a student in Sydney, and the problem there is not the technology but the time zone difference!"
The fibre broadband is helping to support and stimulate village life in Whaddon, and around 70 per cent of households and businesses in the village have now made the upgrade, even higher than the county wide take up figure of 36 per cent which is also well-up on the national average of 24 per cent.. Nigel said: "I think our high take-up rate illustrates the importance of broadband to a small community, and one important side-effect is that people who need these facilities don't need to move to get them. We are a well-informed village anyway with a strong sense of community, but the fibre means people can more easily get to our website or Facebook page as the new connections are so much more reliable and it just works so much better. It's all about communication. One benefit of being late to the party is that we have better connections now than more urban communities as we have benefitted from recent technology changes. "
People are now running businesses or working from home with ease. Nigel says: "I know some people who work from home a lot, and they can do their conference calls by video now, and use their company networks without problems. Home workers can now be a full part of their enterprise; VPNs [virtual private networks] work well for example, people can do tax returns online and farmers can do their required DEFRA returns online."
Households in the centre of the village have gone from speeds of 2Mbps for uploads to around 53Mbps, and those further away from the cabinet at the far end of the village have gone from 0.5Mbps to a minimum of 16Mbps.  Speed and reliability are key to the high take-up figures and the villagers being able to do what they couldn't before.
Nigel Strudwick says: "For those with families, having several devices online without any serious contention issues is just fabulous. Something that must not be understated is the reliability. We have had next to no downtime since installation, and drop-outs are a thing of the past for data, as is the ritual resetting of a router to try and speed things up. Combine speed and reliability and you have a winner."
As Whaddon Broadband Champion, Nigel led the community's campaign for better broadband, working closely with the Connecting Cambridgeshire programme to find a solution and he kept local people informed. Funding from BT, Cambridgeshire County Council and Peterborough City Council, and the Government's Broadband Delivery UK (BDUK) initiative has enabled the programme to roll-out faster broadband in areas not covered by commercial broadband networks.
Nigel Strudwick continued: "The speed and reliability of fibre broadband is important for jobs, software updates, downloads, education, particularly homework and entertainment. All information is available quicker now, and the days of people running software updates all night only to find it'd hung up by the morning are over. But it's important to understand that this is a complex civil engineering programme and there are many complications around where the fibre can go and when. Final speeds are dependent on the distance of a property from the cabinet."
---
'Get a chunk of your life back' with fibre broadband
Getting fibre broadband means you can 'get a chunk of your life back' and save thousands of pounds, says a Peterborough company director.
June Titterton-Fox has been relieving small businesses of their IT headaches for over 20 years through her company YOUSystems.co.uk, which specialises in maintenance and managed support contracts.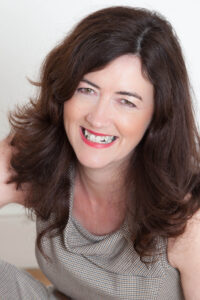 As a broadband champion for the Connecting Cambridgeshire programme, she campaigned for better connections for local businesses in Peterborough and was delighted when the new fibre broadband cabinet serving her offices in Fengate went 'live' in 2015.
June, who lives in Rutland, can now work from home and keep in touch with her team, as well as offering the latest technology benefits to her business customers.
She said: "The difference is fantastic! I can connect to the office without losing speed. The engineers can be downloading software and updates from Microsoft and I can still work online without being affected.
"Best of all we now have a VOIP phone system – all running on the same fibre broadband line so I no longer need to come into the office! Gone is my 45 minute trudge up and down the A1. I now have a phone extension at home that allows me to make and pick up any phone calls coming into the office as if I was sat at my desk. The line quality is as good as ISDN.
"Working from home and coming into the office one day a week means you can get a chunk of your life back and save money on commuting.  I've gained at least eight weeks of my life back and will save thousands in travel costs each year, which means I have time to develop the business and work with new customers.
"We are very keen to get more businesses on to fibre broadband because there are so many benefits, particularly phone systems. Our engineers still go out to clients but having fibre broadband means we can also do remote work on their IT systems more easily."
June calculates that upgrading to fibre broadband with a new VOIP phone system for the office costs her business just £10 more a month than previously on ISDN and broadband lines, while being able to work from home also saves her over £100 a month in travel costs including fuel, servicing and tyres.
She now blogs regularly and is planning to use more videos on the company website at YOUsystems.co.uk to keep customers updated on the latest technology.
The Connecting Cambridgeshire programme is funded by BT, Cambridgeshire County Council, Peterborough City Council and the Government's Broadband Delivery UK (BDUK) initiative. The programme is rolling out faster broadband in areas not covered by commercial broadband networks.
More than 93% of households and businesses across the county can already get fibre broadband and the Connecting Cambridgeshire programme is on track to reach at least 95% by the end of 2017 when combined with the private sector's commercial roll-out of fibre. The next two years will see the programme reaching some of the most challenging rural areas of the county, with other technologies, such as wireless and satellite, being used for the remainder by 2020.
The network installed by BT's local network business, Openreach, as part of the Connecting Cambridgeshire programme is open to all broadband service providers on an equal wholesale basis and so households and businesses in Cambridgeshire can benefit from highly competitive products and pricing from a wide range of service providers.
---
Superfast broadband is 'icing on the cake' for Cambs BBC Bake Off star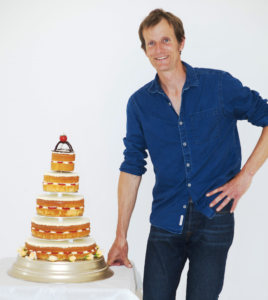 Sending top quality pictures worldwide is now a 'piece of cake' for Cambridgeshire travel photographer and baker star Ian Cumming.
Ian upgraded to superfast fibre broadband in his home village of Great Wilbraham outside Cambridge as soon as Connecting Cambridgeshire announced the new cabinet had gone live in late December 2015.
Ian said: "Getting superfast broadband has made an enormous difference. It is amazingly quick, which is particularly good for the photography side of my work."
"It was well worth waiting for and I am grateful that Connecting Cambridgeshire made it happen for our village."
Ian previously had to resort to using DVDs to send high resolution photos to his professional agency in Canada because his broadband was too slow. Now he can whizz over 10Mb photo files in seconds, and display them on his website at www.icimages.com
The last year has brought new opportunities for Ian to combine his love of cooking and travel photography, gathering inspiration for new recipes, such as on a recent trip to Iceland.
"I made a cake to celebrate the Queen's 90th birthday and one for the school fete in the village, which was fun, but I'm more interested in developing new recipes and taking good photographs."
---
Future-proofing digital services in Cambridgeshire
A Cambridgeshire specialist printing company has future-proofed its digital services and created new jobs with the help of Connecting Cambridgeshire.
B&H Digital can offer its customers speedy online ordering and a host of new digital services after investing in a state of the art web-based platform and cloud storage system.
The Huntingdon-based company received a £4,000 grant in 2015 through Connecting Cambridgeshire's business support scheme, which was funded by the European Regional Development Fund (ERDF).
Customers can now place print orders direct from their desk, update their own bespoke templates for leaflets, business cards etc, and book delivery to suit their needs.
The new system offers an inventory of supplies – from stationary to safety clothing – which can be held in stock and delivered in small quantities, when and where it is needed.  This not only saves storage, but offers real-time stock information, sending alerts when more supplies need to be ordered.
It can also be used as an effective marketing tool by helping businesses to capture useful data, update their customer databases and generate targeted online campaigns.
Simon Mitchell, Director at B&H Digital Ltd, said:
"We were delighted to receive a grant from Connecting Cambridgeshire's business support scheme towards the cost of installing the XMPie platform, which allows us to offer a truly digital service. As a result, we have employed an extra full-time person to manage the system, and a part-time person to provide artwork and design support to our Studio.
"The new system is infinitely quicker, and much more user-friendly for our customers. The wider range of options is invaluable and it's a better way to manage a business's needs for printing, marketing and supplies.
"It means we can provide an enhanced service to our existing clients, and we are starting to attract new customers, who can see the benefits of having a web-based platform that brings everything together."
To find out more visit www.bh-digital.com
For more information about how businesses can benefit from fibre broadband visit our 'Connecting Businesses' pages.
---
Catfish scoops bowl of website awards
Haslingfield company Catfish Web Design won two Golds and two Silvers for its creative websites at the first Cambridgeshire Digital Awards in November 2015.
Founder and web designer Jane Horwood, is among a growing number of women who are using their digital and creative skills to succeed in home-based businesses.
She has been running Catfish Web Design from her home office for 16 years with business partner Mike Ash, who oversees the programming and technical aspects of the work.
The business has been helped by Connecting Cambridgeshire's small business support project with a grant for new equipment to demonstrate work to clients and free digital skills workshops.
Jane was delighted to win awards for her websites for Cambridge Angel & Blume interior designers, online confectionery ingredients supplier Calico Cottage at Haddenham, and the Cambridge Women's Resources Centre.
Jane said: "It was great to win four awards for our websites, which I was not expecting with so many creative digital companies and talented young people at the event.
"We aim to design stylish, search engine friendly and accessible websites that really work for the client by bringing in new business and promoting their services. You have to make sites engaging and easy to use to keep customers interested.
"Cambridge Women's Resources Centre was struggling with an old website they could not update themselves. We completely revamped the site to showcase the fantastic work they do and to give staff the facility to manage and update the website. They now have a news database to keep clients and visitors informed of what's happening."
Angel & Blume founder Cate Burren said: "Jane did a fantastic job designing the website for us. It has really made a difference to our business."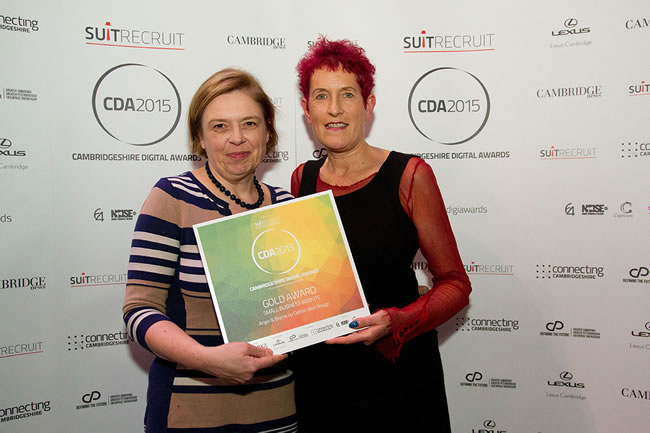 Jane was able to brush up her social media skills at free Destination Digital workshops provided by Connecting Cambridgeshire and is keen to see more women take up the opportunity.
---
Superfast broadband puts accountancy firm in the clouds
Connecting Cambridgeshire has helped a Cambridgeshire Accountancy firm launch a new cloud storage system, allowing clients access to documents 24/7.
Staffords applied to Connecting Cambridgeshire's Destination Digital project for a Government Connection Voucher, of up to £3000, to install superfast broadband.
Handling large files with documents and attachments for tax returns and other financial management tasks had proved difficult in the past. But since the installation of their new superfast broadband, staff at Staffords are able to download important resources rapidly.
Working with clients ranging from start-ups and individuals with small investment portfolios to large professional partnerships and companies with a turnover of £10 million meant that Staffords needed to improve their systems to allow instant access to documents.
Steven Ellis, Chartered Accountant with Staffords said: "The whole process from start to finish using the voucher application, Bridge Fibre's quote for installation and the time to get the system installed took less than three weeks.
Given the often reported delays in getting telephone and broadband companies to do anything, I think that's exemplary service!"
Over 900 connection vouchers have been issued in Cambridgeshire and Peterborough, improving the connectivity of businesses across the county.
The Government Connection Voucher Scheme has now closed.