Speeding up digital delivery and saving carbon in Cambridgeshire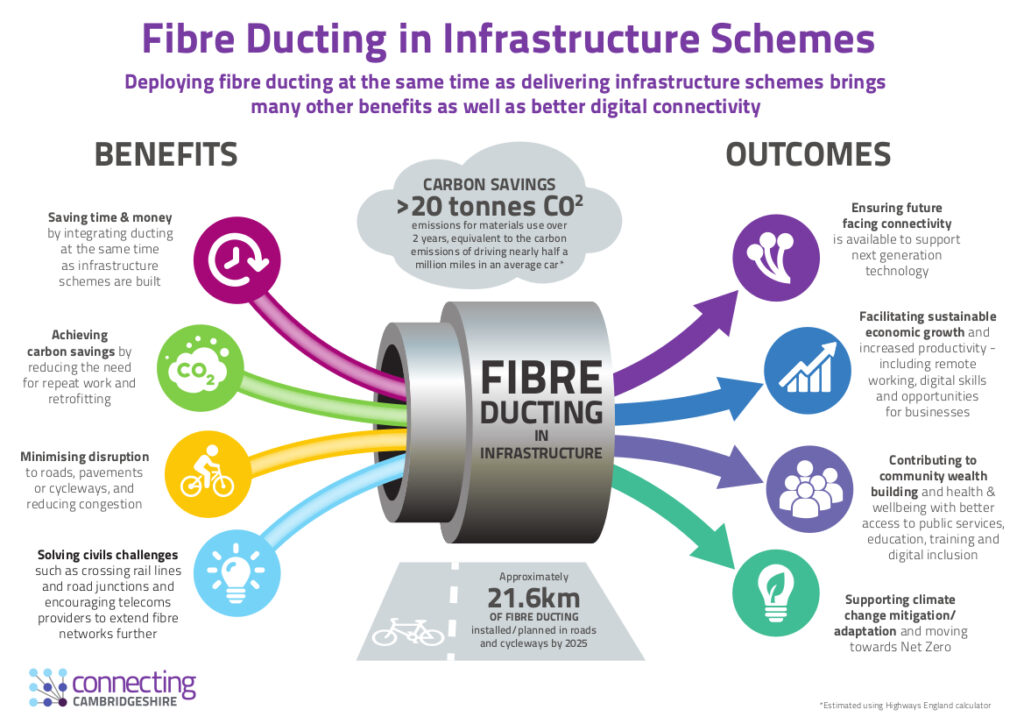 Infographic explaining the benefits of fibre ducting in infrastructure.
Connecting Cambridgeshire's proactive approach to 'barrier busting' is speeding up the rollout of gigabit fibre broadband across the county, whilst generating measurable carbon savings.
The programme's innovative 'Dig Once' policy was the first of its kind in the country to include fibre ducting in new transport infrastructure schemes and is now bringing measurable benefits for the economy, local communities, and the environment.
Hosted by Cambridgeshire County Council and led by Cambridgeshire & Peterborough Combined Authority, the Connecting Cambridgeshire programme is working with local councils, government bodies, telecoms providers and mobile operators to deliver next generation digital connectivity as part of the Digital Connectivity Infrastructure Strategy 2021-2025.
Fibre ducting is now being made available on a commercial basis via Light Blue Fibre, a joint venture between Cambridgeshire County Council and the University of Cambridge, making it quicker and easier for telecoms operators to extend gigabit capable broadband networks and avoid costly, disruptive retrofitting. This means businesses and communities that are challenging to reach can get connected sooner.
To date, over 21km of additional fibre ducting has been installed or is planned during the construction of new road and cycleway schemes by 2025.
Using the Highways England calculator, the policy is also estimated to have brought carbon savings of over 20 tonnes CO2e emissions over the last two year by using less materials – equivalent to the carbon emissions of close to half a million miles driven by an average car.
Cllr Lorna Dupré, Chair of Cambridgeshire County Council's Environment and Green Investment Committee, which oversees the Connecting Cambridgeshire programme, said: "Fast, reliable digital connectivity is essential for modern life and it's vital that our businesses and communities do not miss out because of the cost and complexity of connecting harder to reach places. The 'Dig Once' policy is an innovative approach which not only saves time and money but also brings measurable carbon savings helping towards our Net Zero targets.
"The Connecting Cambridgeshire programme is working with Government and network providers to fill remaining gaps in coverage across Cambridgeshire & Peterborough and ensure that as many homes and businesses as possible can access gigabit capable broadband offering future proof speeds up to 1000Mbps."
'Dig Once' case study: CityFibre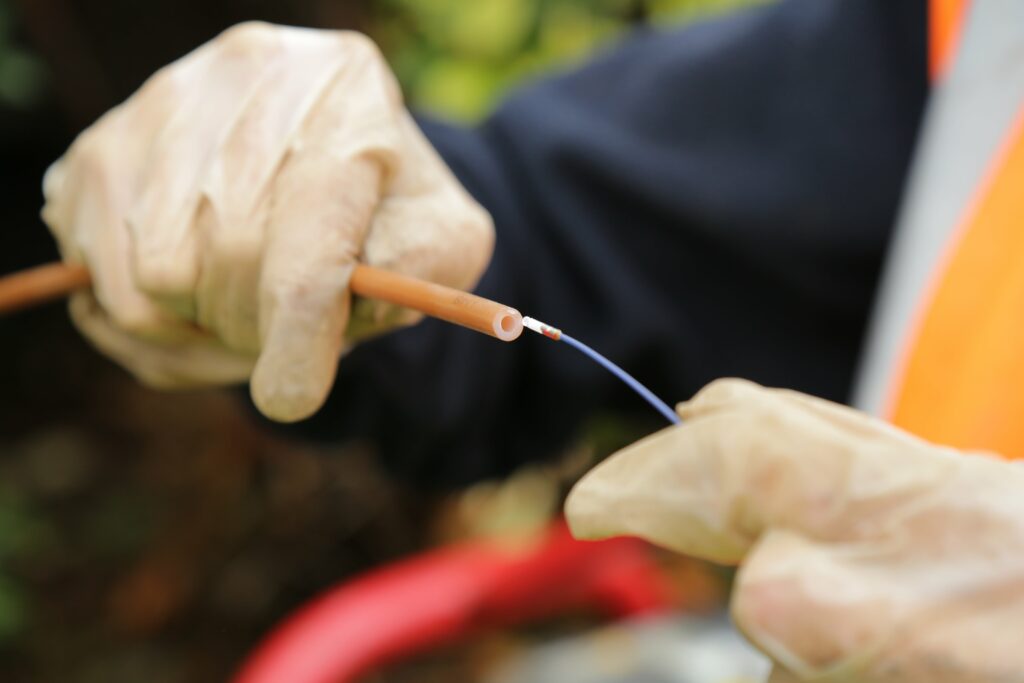 CityFibre is among the first national commercial telecoms providers to use the fibre ducting to overcome barriers to its rollout of gigabit broadband in Cambridgeshire and Peterborough:
In Whittlesey, fibre ducting installed under the new Ralph Butcher Causeway – built to replace Kings Dyke level crossing – is being used to bring gigabit connectivity to over 5000 homes and businesses that would have been challenging to reach across busy rail lines.
In Cambridge, integrating fibre ducting in a major re-working of the Robin Hood Road junction has allowed gigabit broadband to be rolled out to more premises on the outskirts of the city.
Charles Kitchin, Partnership Manager at CityFibre, said: "Connecting Cambridgeshire's Dig Once policy has proved invaluable in speeding up the rollout of gigabit broadband. Having accessible duct already in place saves time, cost, and is better both for the environment and the community as it avoids unnecessary repeated construction works in the same area.
"By working collaboratively, CityFibre can bring gold-standard broadband to even more residents, giving them access to a fast, reliable full fibre network to support their business, household or entertainment needs."
Related Posts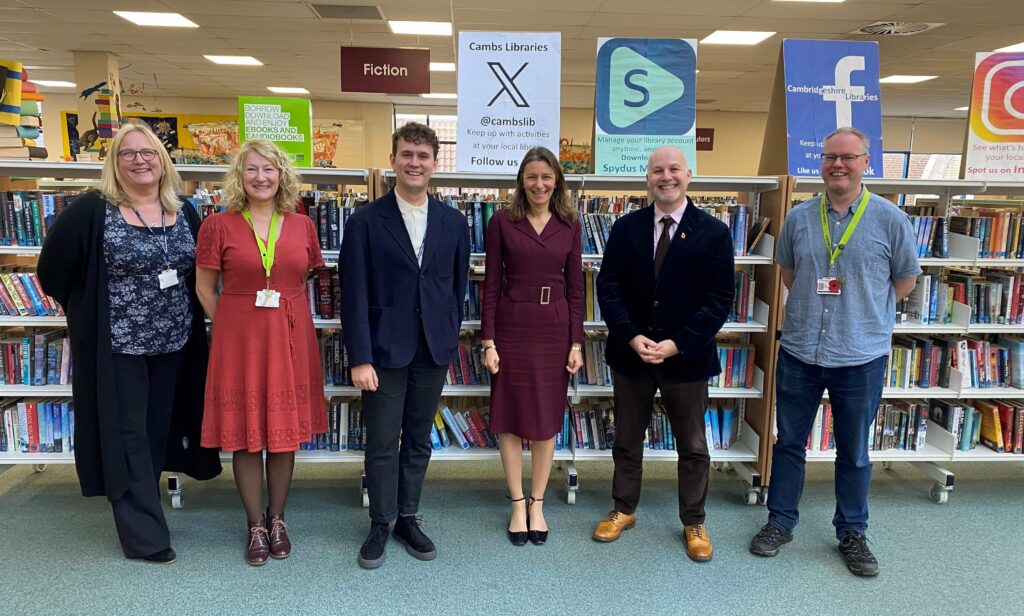 Bridging the Digital Divide in Cambridgeshire – Ely Library welcomes Lucy Frazer MP to discuss the importance of digital inclusion work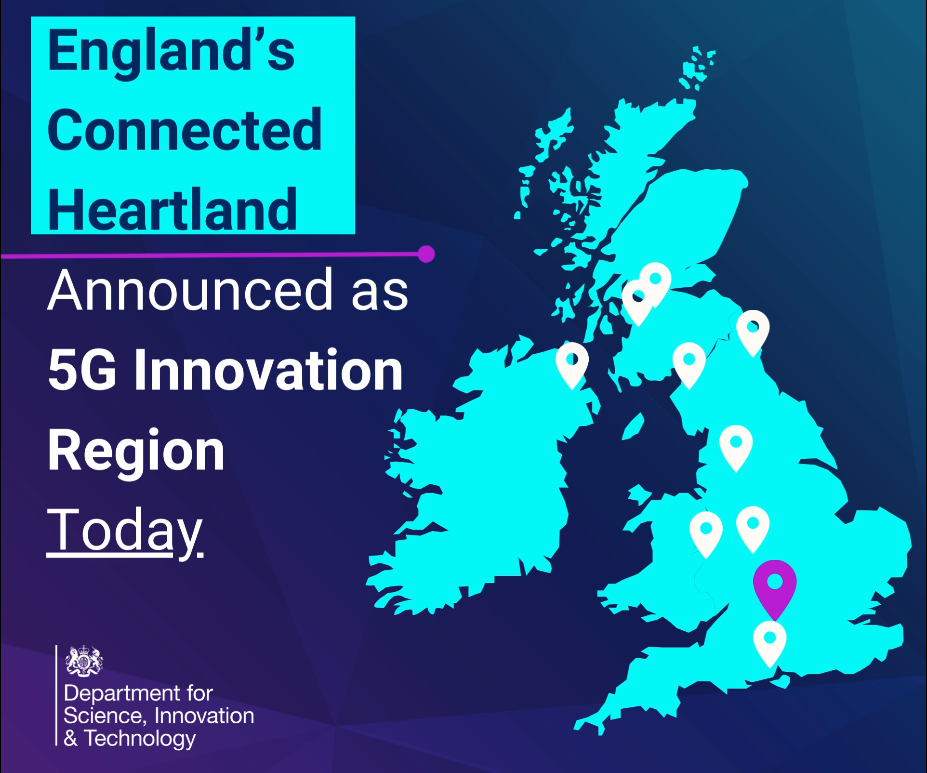 Cambridgeshire welcomes the news that England's Connected Heartland to benefit from major investment in 5G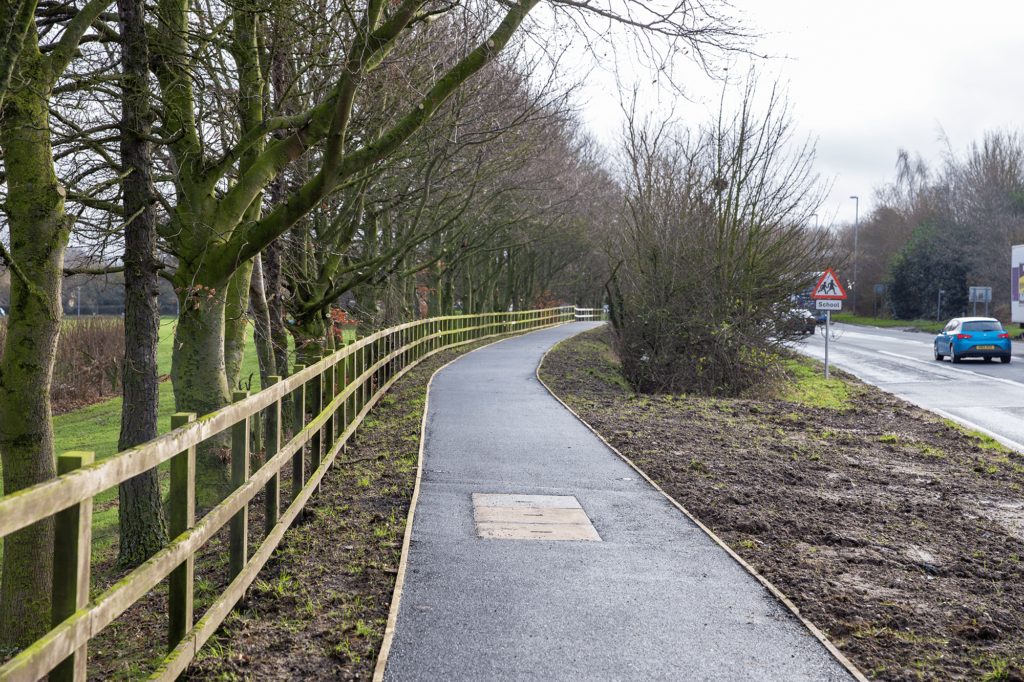 Fibre ducting helps to bring faster internet access for Cambridgeshire communities