Smart collaboration is key for addressing city challenges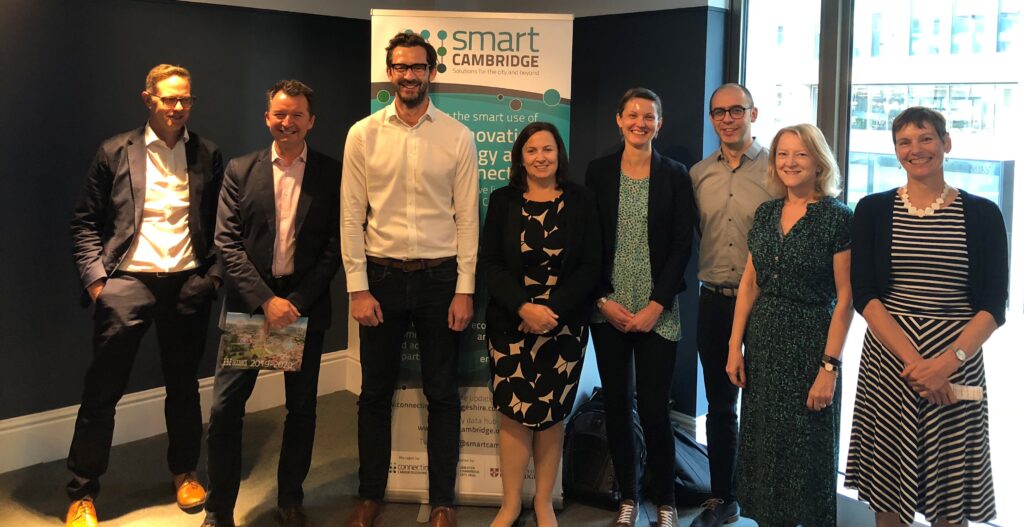 Left to right: Dan Clarke (Strategy & Partnerships Manager, Smart Cambridge), Keith Day (Chief Marketing Officer, Telensa), Dan Hubert (CEO & Founder, AppyWay),  Rachel Stopard (Chief Executive, Greater Cambridge Partnership), Dr Timea Nochta (Research Associate in Urban Systems and Infrastructure, Centre for Smart Infrastructure & Construction), Felix Sanchez-Garcia (Head of Data Science, Geospock), Claire Ruskin (Executive Director, Cambridge Network, Executive Board Member for GCP and Chair of the Smart Cambridge Working Group) and Noelle Godfrey (Programme Director, Connecting Cambridgeshire & Smart Cambridge).
A celebration of smart solutions being used to tackle city challenges, such as transport and air quality, took place at the Tamburlaine Hotel, on Wednesday 2 October 2019, to showcase the innovative projects Smart Cambridge are working on to bring value to Greater Cambridge.
Supported by the Greater Cambridge Partnership, the Smart Cambridge programme works with a range of well-known technology partners – some of whom were on hand to explain how working collaboratively is transforming the way people live, work and travel in and around the city.
Cambridge is one of the fastest-growing cities in the UK, and while being a successful city offers many opportunities, it also brings significant challenges to be tackled including congestion and air pollution.
Speakers from AppyWay, GeoSpock, Telensa and the Centre for Smart Infrastructure & Construction (CSIC) based at the University of Cambridge, explained how utilising data and the latest technologies can improve quality of life, sustainability and the economic strength of the area.
The innovative Smart Cambridge programme, based at Cambridgeshire County Council, works with a variety of partners and leading edge technology businesses. The high profile event was attended by over 50 people and highlighted how 'smart city' innovations are being designed to improve the experience of every aspect of modern living across work, travel, leisure and health.
Claire Ruskin, Executive Board Member for the Greater Cambridge Partnership and Chair of the Smart Cambridge Working Group, said: "Smart Cambridge is using data and new technology well – to make it possible for more people to choose sustainable journeys.
"We can't do it alone and collaboration is key to achieving success – it's great to be able to show that by listening to people, collecting data, trying new use of technology and working together, Smart Cambridge is starting to make it possible for people to choose more environmentally friendly journeys, getting to work and education more easily and reducing congestion to help sustainable growth and quality of life."
Dan Hubert, CEO of AppyWay, the kerbside management and smart parking technology firm, said: "We have been working with Smart Cambridge to digitise Cambridge's Traffic Regulation Orders and through this initiative developed the world's first integrated traffic order management solution. With engaged partners like Smart Cambridge, we can demonstrate the potential of the UK as a world-leader in intelligent mobility and open access to accurate and standardised kerbside restriction data is essential to fulfilling this. We are excited that we can empower local authorities like Cambridgeshire to truly be in the driver's seat on that journey."
Keith Day, Chief Marketing Officer for Telensa, who make wireless smart city applications and deployed the Urban Data Project with Cambridge as Launch Partner City, said: "Like many companies in the Cambridge tech community, Telensa shares the Smart Cambridge ethos of pioneering people-centric smart technologies. We're delighted to be working with Smart Cambridge and using data to find an economic way for cities to take control of their urban data assets."
David Brown, VP Smart City & Urban Innovation for GeoSpock, whose spatial big data platform offers the ability to adapt the way volumes of city data are visualised to enable predictions, said: "We're thrilled to be working in partnership with Smart Cambridge to showcase how GeoSpock's technology can develop the city's future smart ecosystem – particularly as Cambridge is one of the most progressive smart cities in the UK and also home to GeoSpock's headquarters."
Dr Timea Nochta, Research Associate in Urban Systems and Infrastructure from CSIC, who develop data-driven solutions to improve decision-making in asset, city and infrastructure planning and management, said: "With the help of Smart Cambridge we have worked with Cambridgeshire County Council officers to help us understand local requirements and how we can deliver a city-scale digital twin prototype which responds to imminent city challenges and supports the policy goals of improving air quality and reducing congestion. We will continue to develop it alongside the Council so that it can be used to its full potential."
With a strong portfolio of projects and a growing list of high tech partners, Smart Cambridge is exploring new ideas, sharing knowledge and trialling innovative solutions. By collating and analysing data and real-time transport information to better understand and improve people's travel choices, this pioneering work to understand and manage the road network is already making an impact in the city and beyond.
The Smart Cambridge 2019-2020 brochure, which details the exciting projects currently underway and some of those in the pipeline, is available to view here.
Photo gallery credit: Rolando Ugolinio
Related Posts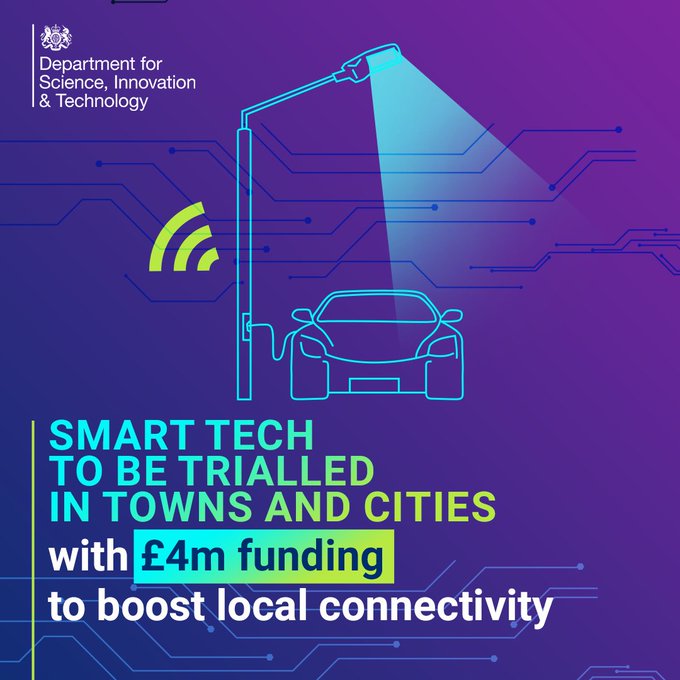 Connecting Cambridgeshire secures £220K funding from Smart Infrastructure Pilots Programme competition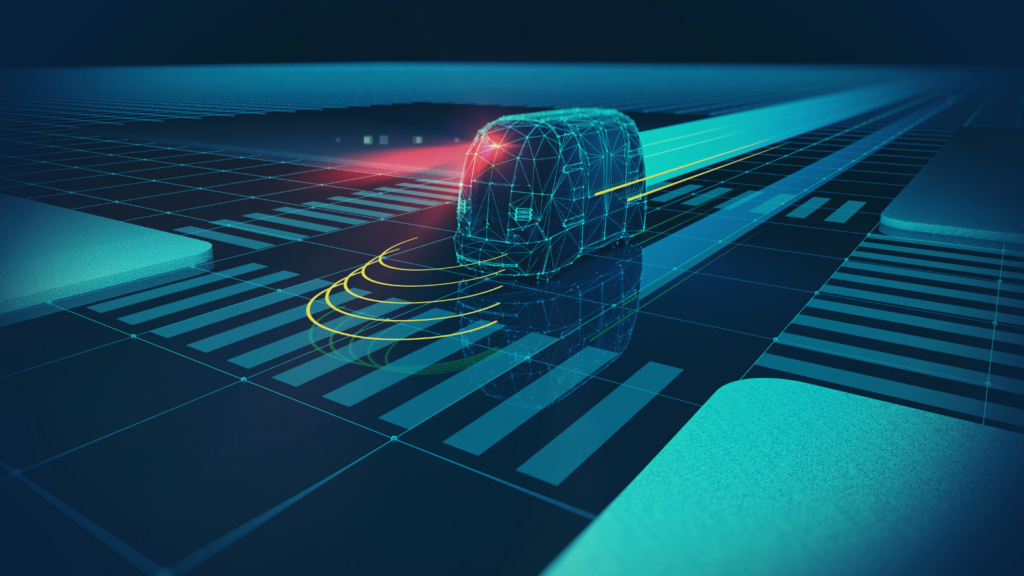 Public and private sector unite to research self-driving vehicles in Cambridge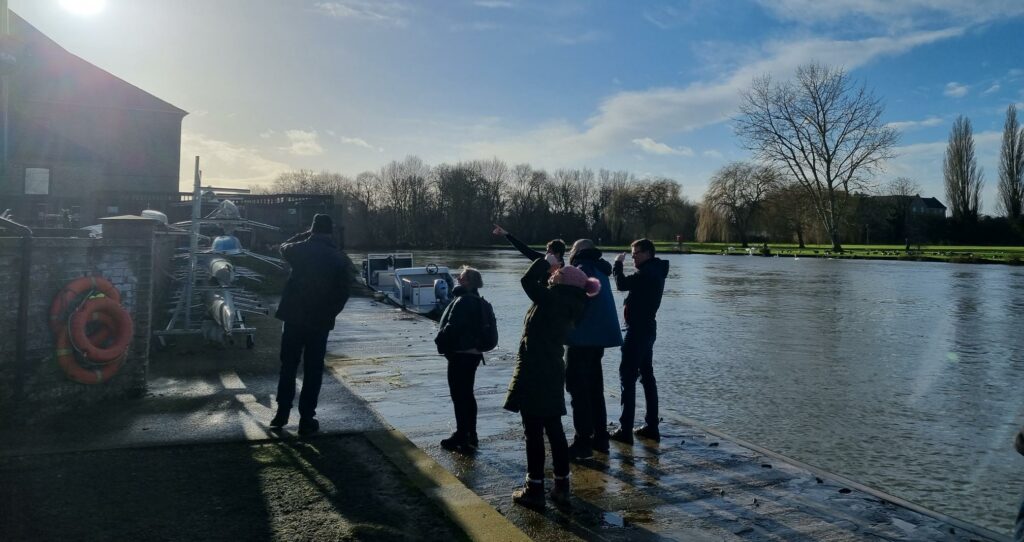 Pilot project using smart technology to trial early flood risk notifications launched in St Neots