SmartPanel screens have been trialled in the foyers of public buildings, organisations and large employers in and around Cambridge city centre since 2018, offering tailorable travel and other information for employees and visitors.
With funding from the Cambridgeshire & Peterborough Combined Authority, new travel information screens are also now going up in market town libraries at Chatteris, Huntingdon, March, Ramsey, St Ives and Whittlesey, the Priory Centre in St Neots and New Shire Hall in Alconbury. Further screens will be installed in Ely and Wisbech libraries and the Soham Co-Op later this month (November 2021).
The SmartPanel demo screens in Cambridge can display live bus and train times specific to the location, together with road traffic maps, travel updates on Twitter, and weather reports.
To find out more about the demo SmartPanel watch our video below:
The SmartPanels are developed in collaboration with the University of Cambridge. If you are interested in learning more about them please email smart.cambridge@cambridgeshire.gov.uk for a SmartPanels digital information pack.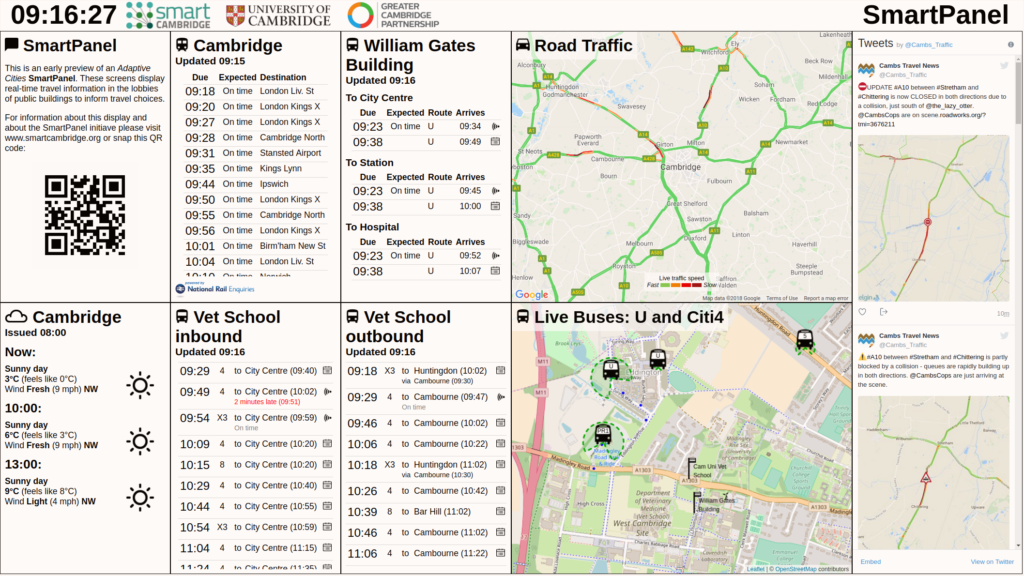 Frequently Asked Questions
What are SmartPanel screens?


SmartPanel screens are being trialled in the foyers of public buildings and large employers offering real-time and static travel data and other useful information for staff and visitors, which can be customised to the location

What information can the screens display?

SmartPanel screens are being developed and can show:

Live bus positions & times
Train departure times
Google traffic maps
Weather forecasts
Twitter timelines
Static messages
Other webpages

Where are the screens being trialled?

At present, the screens are live or being installed in a number of locations:

Cambridgeshire County Council (Shire Hall Reception)
Cambridge City Council (Cowley Road Office)
Cambridge Central Library
South Cambridge District Council (Cambourne office reception)
University of Cambridge (West Cambridge Site)
Anglia Ruskin University
AstraZeneca Offices

The first four screens are or will shortly be in public locations which can be accessed by members of the public during opening hours.

Why do we need this given that people have mobile phones?


Many people will find the information they require from a mobile phone but not everyone. For some users, the screens will provide easily visible information without having to press any keys to find it and information tailored to their locations without having to go hunting for it. Since the screens are large, it may be easier for some people to see the information than using a phone.

The information on the screens could be made better – how do I feedback?

We are keen to improve the content of the screens in response to feedback received and observing how the screens are used. Please email you feedback to

Smart.Cambridge@cambridgeshire.gov.uk

How do I suggest a new location or request a screen for our offices/reception area?

Once we have feedback from the existing screens, we will consider installing more in more public places. If you are interested in displaying the SmartPanel content, please email Smart.Cambridge@cambridgeshire.gov.uk with a subject of SmartPanels. We aim to respond to your request within 5 working days.

If you notice that any bus information is wrong, please email us at Smart.Cambridge@cambridgeshire.gov.uk advising of the time and date, your location and the problem itself. We will then investigate. Unfortunately, problems do occur with respect to the availability of real-time bus information, and we will try to get our suppliers to resolve these problems wherever possible.
Don't just take our word for it…
Read testimonials from people at organisations that have SmartPanels installed.
Put a SmartPanel in your pocket
A pocket version of the SmartPanel screens is now available to access on your smartphone.
Pocket SmartPanel uses the same data to show live weather forecasts plus real-time and timetabled travel information about when the next bus or train will be arriving at your chosen stop or station.