Cambridge is aiming to be among the first smart cities in the UK to trial autonomous vehicles to investigate the feasibility of the technology being used as part of a public transport service in the future.
Background to the project: In February 2018, a consortium made up of Coventry-based engineering firm Aurrigo (the autonomous vehicle division of RDM Group) and Smart Cambridge, a workstream of the Greater Cambridge Partnership, was awarded £3.2milllion of Government funding from the Centre for Connected and Autonomous Vehicles (CCAV), and Innovate UK, the Government's innovation agency, to develop trial vehicles.
Aurrigo was tasked with developing a number of self-driving shuttles which could potentially be trialled on a southern section of the existing Guided Busway, when ordinary buses weren't running.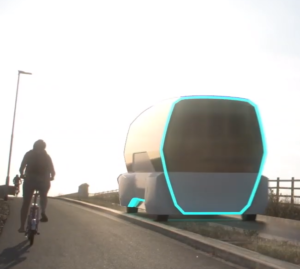 Originally due to start late summer 2020, the initial out-of-hours trial service was planned to run between the Trumpington Park & Ride site and Cambridge Railway Station via the Cambridge Biomedical Campus site.
Following COVID-19 disruptions, the project been refocused away from the Busway and onto the University's West Cambridge site – where no modifications to the vehicle or built environment will be needed to run the trial.
If successful, self-driving vehicles could then be rolled-out elsewhere around Greater Cambridge in the future, for example, to link some of the science and business campuses to each other or to rural travel hubs.
---
To help shape the Greater Cambridge Partnership (GCP) public transport strategy over the coming 10-year period, a report was been prepared in April 2020 for the GCP by Professor John Miles of the University of Cambridge Department of Engineering.
The purpose of the work was to take a forward look at the opportunities and barriers related to the use of connected, autonomous, vehicles within the public transport system for Greater Cambridge. The work took note of the changes in public perception, regulatory environment, and commercial models which are now beginning to evolve. Read or download the report.