**PROGRESS ON THIS PROJECT HAS BEEN SEVERELY DISRUPTED BY THE COVID-19 PANDEMIC. FURTHER UPDATES WILL BE AVAILABLE ONCE REVISED PLANS HAVE BEEN DEVELOPED AND AGREED.**
Cambridge is on track to be one of the first cities in the UK to have a ground-breaking autonomous shuttle service as part of its public transport network.
In February 2018, Smart Cambridge, led by Cambridgeshire County Council, was awarded £3.2milllion of Government funding from the Centre for Connected and Autonomous Vehicles (CCAV), delivered by Innovate UK, the Government's innovation agency to develop trial vehicles.
Over the next two years, Coventry-based engineering firm Aurrigo, the autonomous vehicle division of RDM Group will develop up to six 12-seater self-driving shuttles to trial on the southern section of the existing guided busway, when ordinary buses aren't running.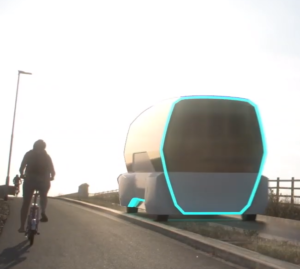 Due to start late summer 2020, an initial out-of-hours trial service will run between Trumpington Park & Ride and Cambridge Station, via the strategically important Cambridge Biomedical Campus site including Addenbrooke's and Papworth Hospital and leading life science companies such as AstraZeneca.
If successful, self-driving vehicles could then be rolled-out elsewhere around Greater Cambridge, for example, to link some of the science and business campuses to each other or to rural travel hubs.
Partners and businesses have welcomed the announcement. Read more here.