Patience, persistence and partnership has paid off for residents in the large Cambridgeshire village of Houghton & Wyton, who can now get the ultrafast broadband speeds using the latest Fibre to the Premise (FTTP) technology.
Broadband Champion Amanda Orchard worked with the Connecting Cambridgeshire programme, led by Cambridgeshire County Council, and her local County Councillor Ian Bates to tackle the slow broadband speeds, which were making daily life difficult for residents.
Most homes in the village could access superfast broadband when two new fibre cabinets were installed by Openreach, but around 100 homes missed out because they were too far from the exchange at St Ives on aging copper lines.
"Working from home was practically impossible for people as was accessing Wifi for streaming, internet access or services on demand," said Amanda, who frequently experienced her own family's frustration at not being able to get a decent internet connection.
To gain a true picture of what was happening, Amanda conducted a survey of all residents asking for speeds and information, which Connecting Cambridgeshire passed to Openreach to investigate how to resolve the complex issue.
A plan of action was proposed by Openreach with funding agreed with Connecting Cambridgeshire to deliver fibre broadband – capable of up to 300Mbs – to the remaining homes and businesses, that would otherwise not be able to get it because it was not commercially viable.
The plan was explained through a public meeting which Cllr Bates attended alongside representatives from Connecting Cambridgeshire and Openreach, to address residents' questions and frustrations.
It took a year to complete as underground and overhead solutions had to be found to overcome a variety of challenges, including private roads and multiple occupancy dwellings, which all needed planning, surveys and civils work.
Amanda said: "Working with Connecting Cambridgeshire helped achieve something which felt almost impossible at the very beginning…access to 21st century broadband! We worked very much as a partnership to highlight issues and resolve problems, of which there were lots along the way. Having one point of contact meant that communication was relatively streamlined and I kept everyone updated.
"I cannot stress enough the importance of keeping people informed so they are aware of progress and timings. It was also important for people to understand the options available to them and the current choice of providers of FTTP services – which sometimes involved switching."
Councillor Bates said: "I am delighted that residents can now access superfast (and faster) broadband in Houghton, and thankful to broadband champion Amanda Orchard for her tireless work, which helped to achieve this."
Once the network was live, residents booked via their Internet Service Provicer (ISP) for the fibre connection to be installed directly to their premises by an engineer. And the wait was worth it – as these residents' comments show: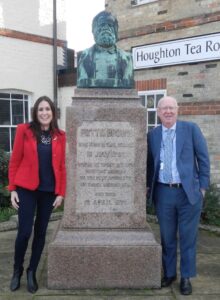 "I chose to go with the 150mb option from Zen….I am very happy with the way that FTTP has gone. It is a little expensive, but I expect that to improve as more providers come into the market. I work from home one day a week and the fast and reliable internet has been very beneficial."
"Just want to say thanks for getting FTTP sorted out for the village – we got ours installed a couple of weeks back and the speed is great." Ian Percy
"Everything in our house is connected, from the lights to Alexa, so when the speed was really slow it caused us huge issues. The increase in speed has improved my conference calls, file transfers, and streaming speeds for everyone in the house; it has had a real positive impact for us!" Matthew Kelly
"The installation was really quick, only a few days, and was all done online with a deal on price agreed.
The results are excellent and the speed is almost instant….a huge improvement and this has stopped all the jokes from our family who think we had a steam powered system! Thanks for all your perseverance and updates and we feel we are now in the 21st century!" Pete and Maggie Whitehead
"It's wonderful!! We can at last watch streamed TV – the Murray/Williams Wimbledon match in glorious UHD was AMAZING, almost as good as being there! We have recently become grandparents so we can video stream our daughter and grandchild. Overall, it has made a substantial difference to us and we are very pleased eg. – with VOIP my wife can talk to her Australian cousin for about 2p a minute!" Chris Moss
"It makes a huge difference to me as I work from home a lot – it means my videos calls don't drop out, it means I can download large documents easily and quickly. In fact there are hundreds of things I do a day that are just a lot easier as a result." Jonathon Palmer
"I was so pleased to see Terry the engineer that I invited him for Christmas Lunch! He now stops me whenever he sees me!" Amanda Orchard.