Updated September 2020
Rural businesses and homes in the Cambridgeshire Fens have speeded up the delivery of fast fibre broadband to their doorsteps using the Government's Gigabit Broadband Voucher Scheme for rural areas.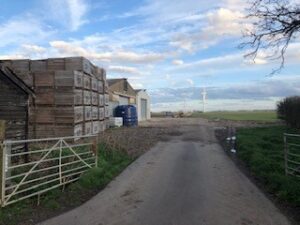 The businesses including a farm office, wind electricity supplier, pest control, kennels & cattery, and home-based photographer, together with nearby households were among the first in the county to apply for the new rural Gigabit Vouchers as part of a group scheme.
Situated in farmland between Chatteris and Warboys, their remote premises are among the 'hardest to reach' with fibre broadband as they are a long way from the nearest cabinet, so currently use satellite or mobile to access the internet.
Rather than wait for the next phase of the superfast broadband rollout, the group were advised by Connecting Cambridgeshire to form a Fibre Community Partnership with Openreach to find out how much it would cost to connect them using the latest Fibre to the Premise (FTTP) technology bringing superfast broadband up to 330mbs.
Offering up to £3,500 per business and £1,500 each for residential premises, the higher value gigabit vouchers for eligible rural areas meant the applicants only had to contribute £100 each towards the total installation costs of just over £35,000 to secure delivery of full fibre within a year.
Businesswoman Anna Whittome, who runs a farm office and Whittome Renewables generating wind power for supply to the grid and local farm properties, said: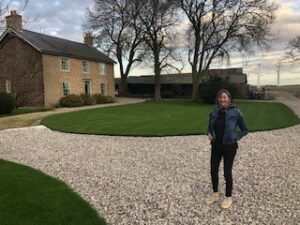 "We were very lucky that the rural Gigabit Vouchers for groups came in just at the right time. Initially the huge cost of the project was way out of reach for us. However, the Community Fibre Partnership team were very helpful and Openreach came back with a revised quote and a plan for Fibre to the Premises (FTTP).
"I approached everyone who was eligible and most people wanted fibre broadband, but it took a lot of chasing to get all the voucher applications completed and provide the business evidence Openreach needed. I also had to sign the contract using my business to agree that everyone who had applied for vouchers would place an order for FTTP services for 12 months once it was live.
"I took the risk because having fast fibre broadband will make a big difference to us when it comes in the next few months – not only for our businesses but also being able to stream films for entertainment and connect whenever we want to."
Kasam Hussain, Openreach's partnership director for Cambridgeshire, said:
"We are doing a huge amount of work across the UK, including Cambridgeshire, to make full fibre available. Not only is it much faster, but it's also more reliable and future-proof for generations to come. Our Community Fibre Partnership programme is a huge success, enabling rural communities like in the Fens to club together and join forces with us to make fast fibre broadband available.
"Across the UK, we've joined forces with more than 1,300 communities in this way, which is more than 122,000 homes and businesses. Around 400 of those have used the government vouchers. Anyone who thinks they could benefit from this approach should visit the Openreach website at openreach.co.uk."
Use our postcode checker to see if you can get superfast broadband, and find out about Gigabit Broadband Vouchers for groups in rural areas.