Taking simple steps to work more flexibly and avoid rush-hour traffic has saved a Cambridge commuter's time – and his stress levels.
With the daily journey to work in Cambridge regularly taking twice as long as it should because of peak time congestion, Development Manager Gavin Watton tried a new approach.
Gavin leads a team at world-leading software company AVEVA's Cambridge Headquarters on Madingley Road, so he's used to problem-solving with colleagues around the world, often via Skype.
Living in St Ives meant the 15-mile journey to Cambridge was taking over an hour by car, including the frustration of sitting in traffic jams at each end.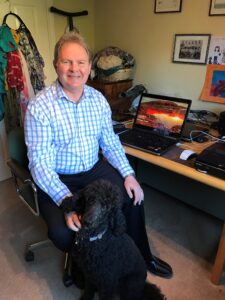 Gavin's situation was compounded by an injury which meant he could no longer cycle to the office, as well as the fact that the Guided Bus did not go near enough to his workplace.
He explained: "It got to the point where I had become extremely weary with the commute to and from work, so I decided to do something radical. I am fortunate in my job that I can work flexibly, so I changed my approach to the working day.
It is quite easy really; I get up early to walk the dog and then begin my working day at home from 7.30am for an hour or more. I then leave home around 9am once the school traffic has cleared. This means I can get to work in about 30 minutes, which is what it should be! Then during my commute, I just have a placeholder in my calendar between 9am and 10am with an out of office message that explains to colleagues that I am travelling to the office."
"It's working well and hasn't caused any problems so far. Occasionally I do have to get into the office earlier, so I just live with the odd annoyance of commuting on those days. Going home later also means I avoid the evening rush-hour.
Having a good broadband connectivity in St Ives, with the added benefit of being able to login remotely to my work systems and use Skype have also helped me to work more flexibly and continue to work productively, regardless of my location."
"I think if more employers allowed their employees to work flexibly, within reason of course, fitting in with the respective business needs, it would help to reduce the city's congestion problems."