Haslingfield company Catfish Web Design won two Golds and two Silvers for its creative websites at the first Cambridgeshire Digital Awards in November 2015.
Founder and web designer Jane Horwood, is among a growing number of women who are using their digital and creative skills to succeed in home-based businesses.
She has been running Catfish Web Design from her home office for 16 years with business partner Mike Ash, who oversees the programming and technical aspects of the work.
The business has been helped by Connecting Cambridgeshire's small business support project with a grant for new equipment to demonstrate work to clients and free digital skills workshops.
Jane was delighted to win awards for her websites for Cambridge Angel & Blume interior designers, online confectionery ingredients supplier Calico Cottage at Haddenham, and the Cambridge Women's Resources Centre.
Jane said: "It was great to win four awards for our websites, which I was not expecting with so many creative digital companies and talented young people at the event.
"We aim to design stylish, search engine friendly and accessible websites that really work for the client by bringing in new business and promoting their services. You have to make sites engaging and easy to use to keep customers interested.
"Cambridge Women's Resources Centre was struggling with an old website they could not update themselves. We completely revamped the site to showcase the fantastic work they do and to give staff the facility to manage and update the website. They now have a news database to keep clients and visitors informed of what's happening."
Angel & Blume founder Cate Burren said: "Jane did a fantastic job designing the website for us. It has really made a difference to our business."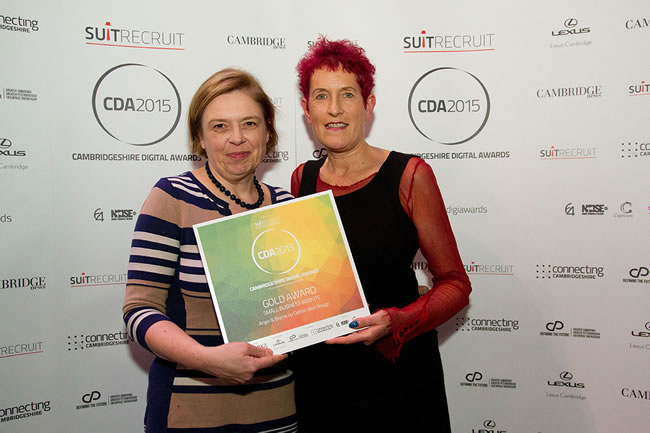 Jane was able to brush up her social media skills at free Destination Digital workshops provided by Connecting Cambridgeshire and is keen to see more women take up the opportunity.