Barry Johnson became the broadband champion for the village of Arrington soon after he and his young family moved to South Cambridgeshire.
As a software consultant with international clients, Barry was so keen to get superfast broadband to his rural home that he even offered to use his own digger to dig a trench for the fibre optic cable!
Working with the Connecting Cambridgeshire team and BT, Barry helped engineers plan the best solutions to bring superfast broadband to the area, and showed residents how to get connected – raising over £250 in donations for the village school in the process.
Most of Arrington went live with superfast broadband in 2016, however it took a bit longer – and the latest fibre to the premise technology (FTTP) – to reach Barry and his neighbours, who live along a farm lane outside the village.
But the wait has paid off for the Johnson family, who can now get one of the fastest internet connections available – at 300Mpbs – which has transformed their work and home life.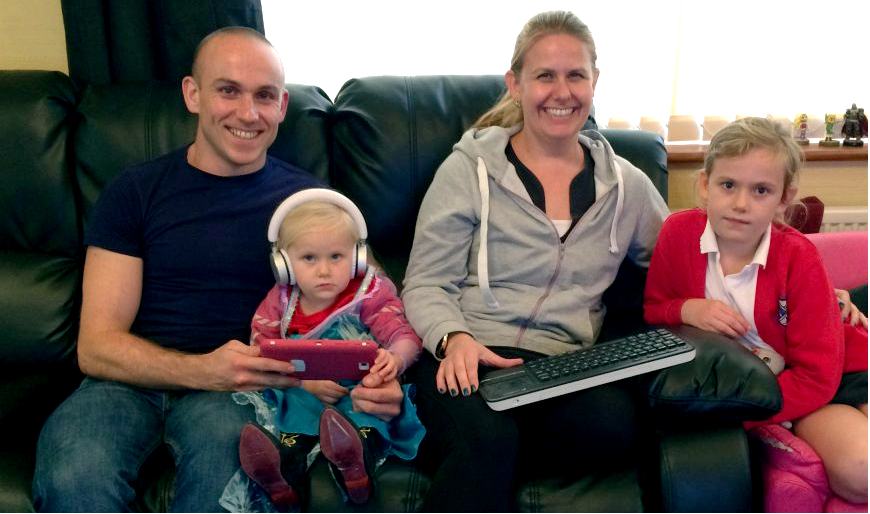 Barry said: "It's great that we have now 21st Century internet and can enjoy the digital services that our counterparts in more urban areas have been able to enjoy for a while! I am now proudly the person with the fastest connection out of all of my friends. Honestly, downloading stuff just makes me laugh now, we can stream films, and there is no delay on my business calls."
His wife, Genine, who is treasurer of the school PTA and runs a soft play hire business from home, said: "It was a nightmare before, now I can upload photos to my website, sort out childcare vouchers and use ParentPay to sell tickets for school events. The girls use the Internet for their homework, and to play educational games."
Faster fibre to your door
Properties that have waited longer for fibre broadband are increasingly benefiting from future proof technology bringing ultrafast speeds of up to 300Mbps.
Fibre to the Premise (FTTP) technology is being used for the rollout in rural areas where it is more effective to run the fibre optic cables directly to homes and businesses, via overhead lines on poles.
Residents can choose the fibre services package and speeds they need, regardless of the technology. However, this is a relatively new technology so not all service providers offer FTTP services yet.
Find out more about FTTP on the Connecting Cambridgeshire website at www.connectingcambridgeshire.co.uk