Mayor urges Ely to "Get connected" to full fibre broadband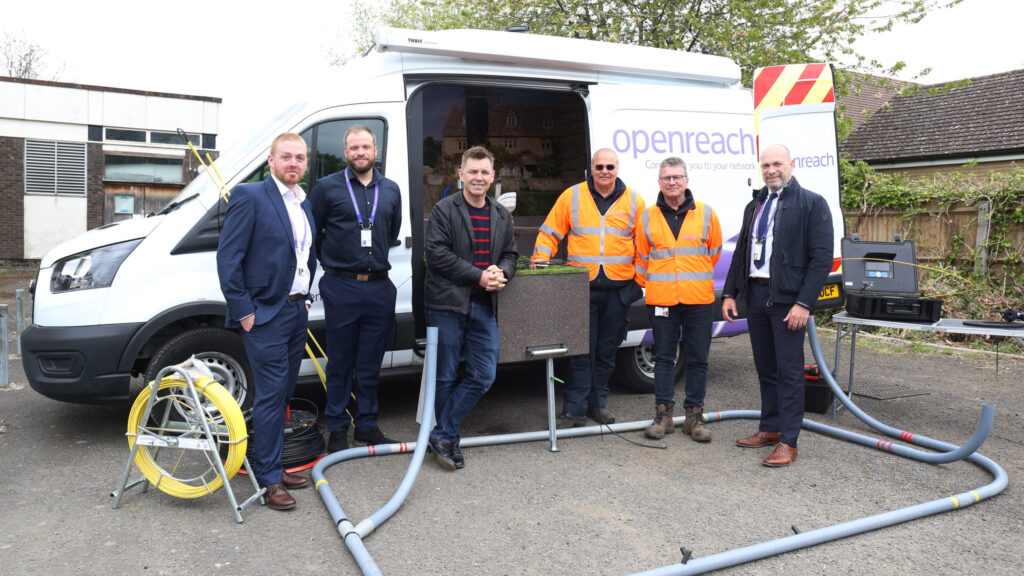 Mayor Dr Nik Johnson (third from left) with Niall Mullin, Ben Flanz, Emmanuel Grixti, Ken Leek and Phil Royal from Openreach, with the Civils Avoidance Show Van – used for displaying and demonstrating different tools and techniques that can be used to try and avoid tasks being sent to civils teams.
Cathedral City jumps into the fast lane thanks to Openreach's £2.5 million investment
Thousands of homes and businesses in Ely can order some of the fastest, most reliable broadband in Europe – and they're being urged to 'get connected' to full fibre.
The Mayor of Cambridgeshire and Peterborough, Dr Nik Johnson, spent time with Openreach engineers to witness first-hand the engineering techniques behind their £2.5 million ultrafast full fibre broadband build across Ely.
The Mayor was given a tour of the local network and met some of the engineers that helped make full fibre available to more than 9,000 homes and businesses.
He was accompanied by members of the Connecting Cambridgeshire broadband programme, which is part of the Combined Authority's digital connectivity strategy.
Openreach is the UK's largest broadband network – used by customers of the likes of BT, Sky, TalkTalk, Vodafone and Zen.
After meeting with Openreach in Ely, Mayor Doctor Nik Johnson, said: "This significant investment is great news for people living and working in Ely, who are some of the first in Cambridgeshire to benefit from a full fibre broadband network. Thousands have already signed up for faster broadband, but if you're still to take the plunge, there has never been a better time to get connected and upgrade to full fibre.
"I particularly enjoyed finding out more about how Openreach builds the network. They've got a wide range of innovative tools and techniques, much of which is introduced to engineers at their flagship training school in Peterborough. It enables them to work quickly, safely and with minimal disruption to the local community."
Ely was first announced as one of Openreach's build locations back in January 2020 and work started soon after.
Phil Royal, director for Openreach's chief engineer team in the East, said: "We're really proud to be at the forefront of the full fibre build here in Ely. We welcomed the opportunity to give a step-by-step demonstration of our technology as well as an update on progress. Our local teams of engineers work hard every day to keep communities across Cambridgeshire and the wider East of England region connected, and it was great to be able to share the challenges and realities of delivering this technology.
"Our full fibre work builds on an incredibly positive last few years for broadband in the county, where we've worked closely with the Connecting Cambridgeshire broadband programme. We know there's more to do and communities that aren't currently in a build plan should keep an eye out for our regular update announcements."
Full fibre broadband offers download speeds of one gigabit per second (1Gbps), which means it's up to 10 times faster than the average home broadband connection. This means faster game downloads, better quality video calls and higher resolution movie streaming are possible.
It's also less affected by peak time congestion and it allows people to use multiple devices at once without the connection slowing down. That means more people can get online at the same time without experiencing stuttering, buffering or dropouts.
Mayor Johnson heard how:
Ely leads the way for fibre coverage locally, closely followed by St Ives, Ramsey and St Neots, all of which are already in Openreach's build plans
More than 9,000 premises in Ely and 45,000 across Cambridgeshire can already order full fibre broadband with tens of thousands of homes and businesses now using the new network
Openreach uses innovative and advanced engineering techniques to work quickly and, wherever possible, uses its existing poles and duct network to minimise disruption to residents
Openreach is creating more than 400 new jobs – mostly engineers – across the East of England this year, to support the build plans – including around 60 in Cambridgeshire
Around 13,000 of Openreach's engineers carry out training at Openreach's flagship training centre in Peterborough each year – including most engineers in the area. The centre includes 15 classrooms, pole training fields and a mock residential street where trainees can learn their skills in a safe and controlled environment.
Openreach's role in the region isn't just limited to building the new broadband network. More than 3,500 Openreach colleagues live and work in the East of England.
The Connecting Cambridgeshire programme has also extended the free on-street CambWifi coverage in Ely. Extending it here and across other Cambridgeshire market town centres is part of the Combined Authority's ambition for digital connectivity for the region – so that businesses and communities can stay connected whenever they are in a CambWifi location around the county.
Find out if you can upgrade to fibre broadband with your chosen internet service provider by using the Connecting Cambridgeshire postcode checker or check how and where you can access CambWifi.
Photos: Richard Marsham | RGM Photography
Related Posts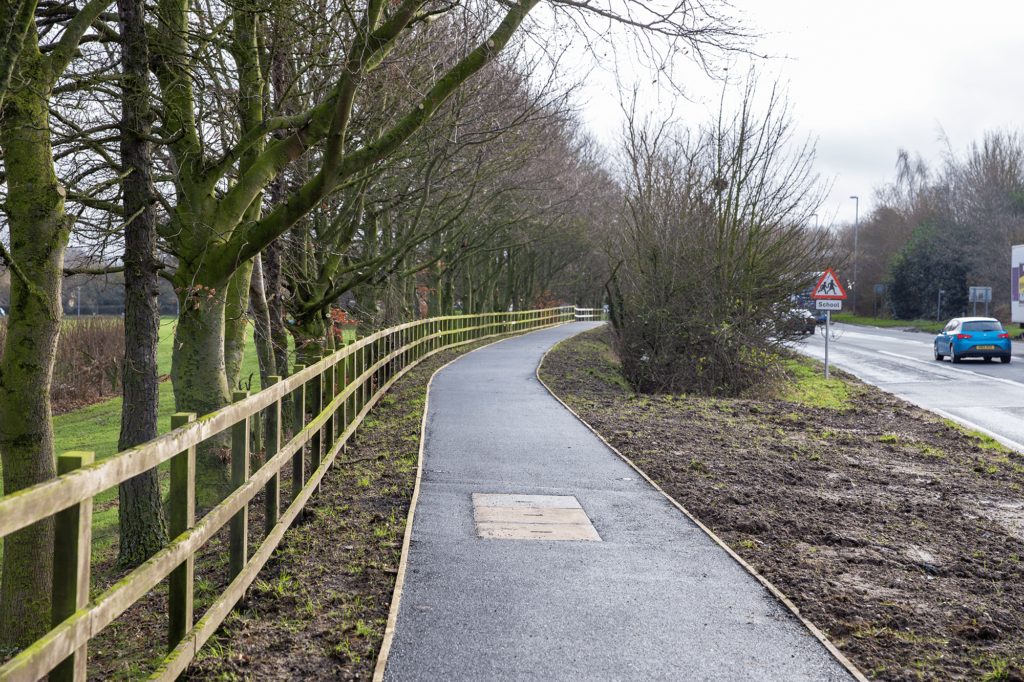 Fibre ducting helps to bring faster internet access for Cambridgeshire communities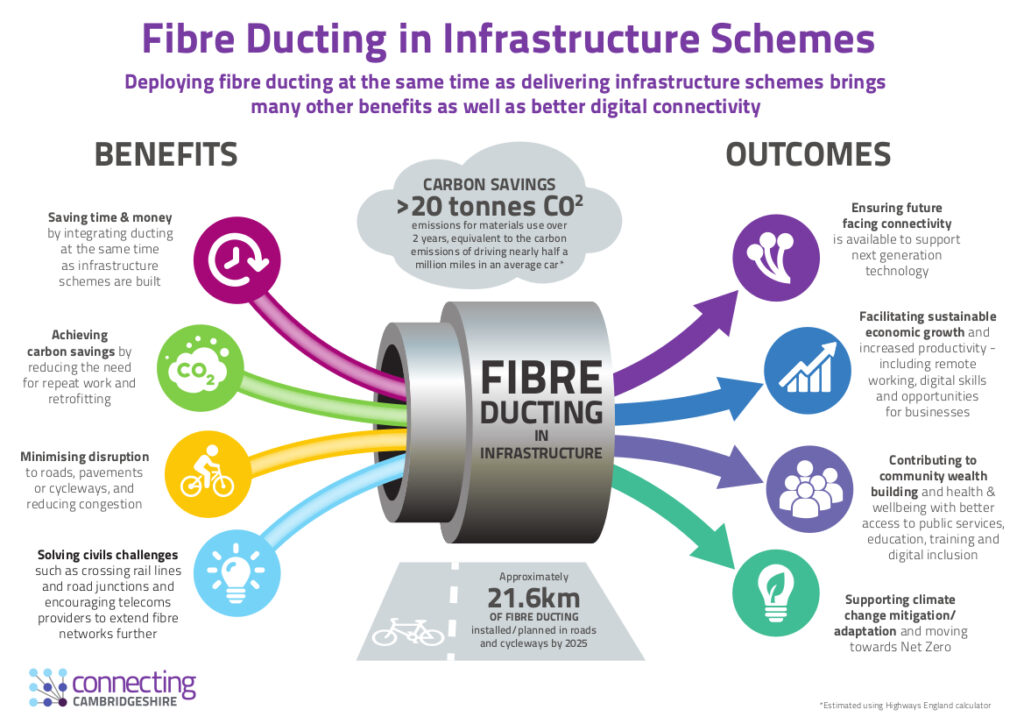 Speeding up digital delivery and saving carbon in Cambridgeshire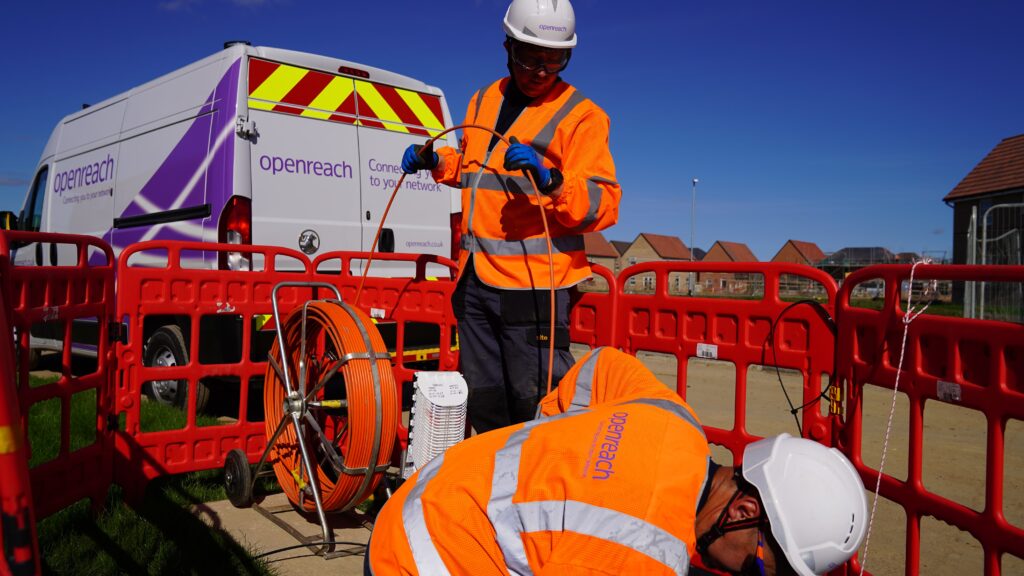 Thousands across St Ives and St Neots missing out on faster broadband