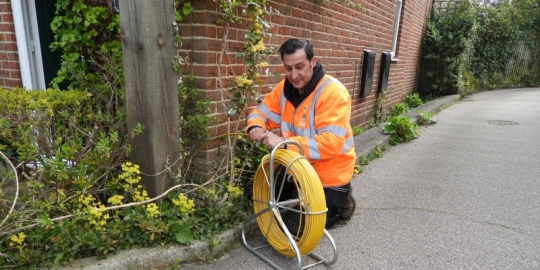 East Anglia-based full-fibre broadband provider, County Broadband, has announced its first three village networks in south Cambridgeshire have gone live, bringing world-class digital connectivity to thousands of rural residents and businesses.
The 18-month infrastructure projects, funded by a multimillion-pound private investment from Aviva Investors to build fibre-to-the-premises (FTTP) networks, have completed in Fowlmere, Newton and Thriplow.
The major boost to Cambridgeshire's growing digital economy means around 3,000 premises will soon have access to gigabit speeds and greater reliability.
In total, County Broadband has earmarked 36 villages in its south Cambridgeshire rollout amid strong demand to get 'future-ready' networks.
James Salmon, Director of Sales and New Territories at County Broadband, said: "We are thrilled to welcome Fowlmere, Newton and Thriplow to our rapidly-expanding full-fibre network across East Anglia at such a pivotal time to help our region bounce back strongly from the Covid-19 pandemic.
"We have an exciting rollout in rural south Cambridgeshire and demand for future-ready full-fibre broadband has never been higher. Thousands of residents, many of whom are now remote working, and businesses of all shapes and sizes will benefit from lightning-fast gigabit speeds and bullet-proof reliability thanks to our significant investment in the region's infrastructure and future prosperity.
"Installing new full-fibre broadband infrastructure at this scale is a complex task and has many challenges. It requires significant planning, resource and time, with each project involving the coordination of highways, landowners, civils works and advanced fibre optic engineering.
"We pledge to continue innovating, working closely with stakeholders, and keeping our communities updated as we continue to overcome the many challenges presented by each project to meet our rollout ambitions. We look forward to connecting many more rural and hard-to-reach areas in south Cambridgeshire over the coming months."
Residents and businesses can find out if they are covered in County Broadband's rollout by entering their postcode here.
Read the full announcement, made on 1 October 2021, on the County Broadband website.