Cambridge next in line for full fibre transformation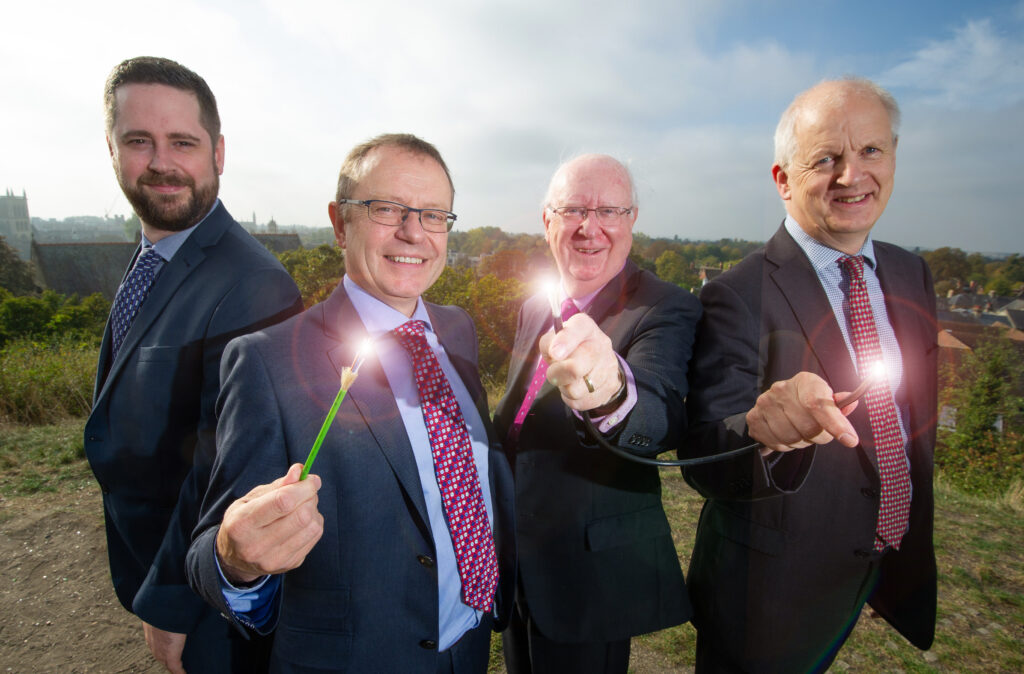 Paul Ryder, City Manager at Vodafone, Andy Starnes, Head of City Development at CityFibre, Cllr Ian Bates and Cllr Lewis Herbert light up Cambridge from the Castle Mound
Cambridge has been named as one of the first UK locations to benefit from city-wide full fibre connectivity following the announcement of private investment totalling over £20m from CityFibre.
With work in Cambridge due to start in the New Year, CityFibre and Vodafone are accelerating Britain's shift away from copper, bringing full fibre infrastructure to one million UK homes and businesses by 2021.
This future proof infrastructure is expected to deliver millions in economic benefits for the city including £59m in boosted productivity and innovation, £23m in new business start-ups and £117m in increased housing wealth.*
CityFibre is working closely with both Cambridge City and Cambridgeshire County Councils to plan and co-ordinate the build so it maximises the benefits of full fibre for the wider community.  The new infrastructure will build on CityFibre's existing 44km metro network, bringing transformative connectivity to homes and business across Cambridge for the very first time.
Full fibre connectivity will enable people across the city to receive superior and more reliable broadband services, capable of Gigabit speeds (1,000 Mbps). Vodafone will use CityFibre's network to bring Vodafone Gigafast Broadband to customers, delivering affordable fibre connections all the way to their home or business.
Cambridge joins Milton Keynes, Peterborough, Aberdeen, Coventry, Huddersfield, Edinburgh, Stirling, Southend-on-Sea and Leeds which have all been confirmed as the first UK locations to benefit from city-wide full fibre connectivity.
Greg Mesch, CEO at CityFibre, said: "We are committed to making Cambridge one of the best-connected digital communities in the UK. Once complete, this investment will bring transformative connectivity directly to doors of public services, homes and businesses – across the entire city – for the very first time.
"The full fibre age is taking hold across the UK with CityFibre leading the charge. Britain has outgrown its outdated copper infrastructure and now needs fibre to take it into a digitally competitive economic future."
Vodafone UK Chief Executive Nick Jeffery added: "Overhauling the nation's broadband is a vital undertaking that we're proud to be a part of. By bringing the benefits of full fibre to more and more cities and towns, from Stirling to Southend-on-Sea, one million homes across the country can benefit from this world-class technology."
With the full support of Cambridge City and Cambridgeshire County Councils, work on installing the new full fibre infrastructure will begin in the New Year. CityFibre will use modern build techniques to deploy the network quickly, while minimising disruption to residents. Once completed, almost all businesses, and for the first time, homes, in Cambridge will have full fibre access.
Cllr Lewis Herbert, Leader of Cambridge City Council, said: "Its great news for Cambridge businesses and residents that infrastructure firm CityFibre is to invest over £20m in our city in their next wave of citywide full fibre networks.
"This is a major boost for our world leading digital and high tech businesses and research organisations wanting to grow and develop in Cambridge, who need the best possible digital infrastructure to develop to their maximum potential, working with partners across Europe and the globe.
"CityFibre has made a major difference to cities by similar investment across the UK and we welcome them to Cambridge and the major extra investment they are bringing."
Cllr Ian Bates, Chair of Cambridgeshire County Council's Economy and Environment Committee, which leads the Connecting Cambridgeshire digital connectivity programme, said: "Cambridgeshire is a leading digital county and we welcome this investment by CityFibre bringing full fibre to Cambridge, helping to ensure that we have the digital infrastructure we need for our businesses and communities to thrive."
Construction has already started in the partnership's launch cities – Milton Keynes, Peterborough and Aberdeen – and services are now live for the first customers in Milton Keynes, with Vodafone already taking orders for its Gigafast service.
To find out more about CityFibre and its Fibre to the Home roll-out, visit www.cityfibre.com/residential
To find out more about Vodafone's Gigafast Broadband service, visit www.vodafone.co.uk/gigafast
*Economic data calculated by Regeneris. The report can be viewed here.
Related Posts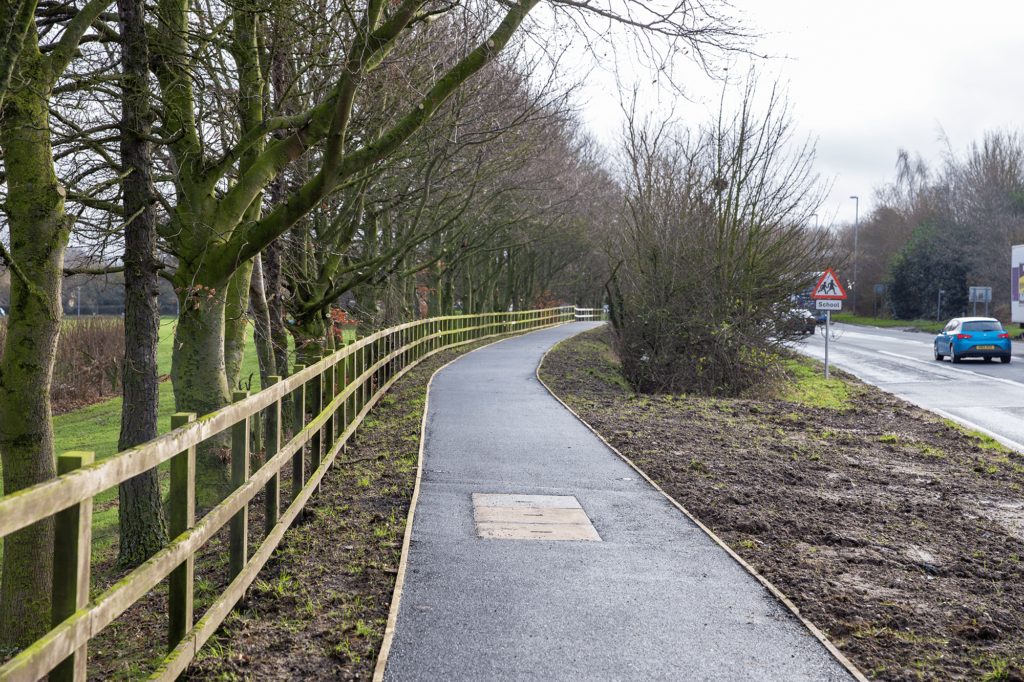 Fibre ducting helps to bring faster internet access for Cambridgeshire communities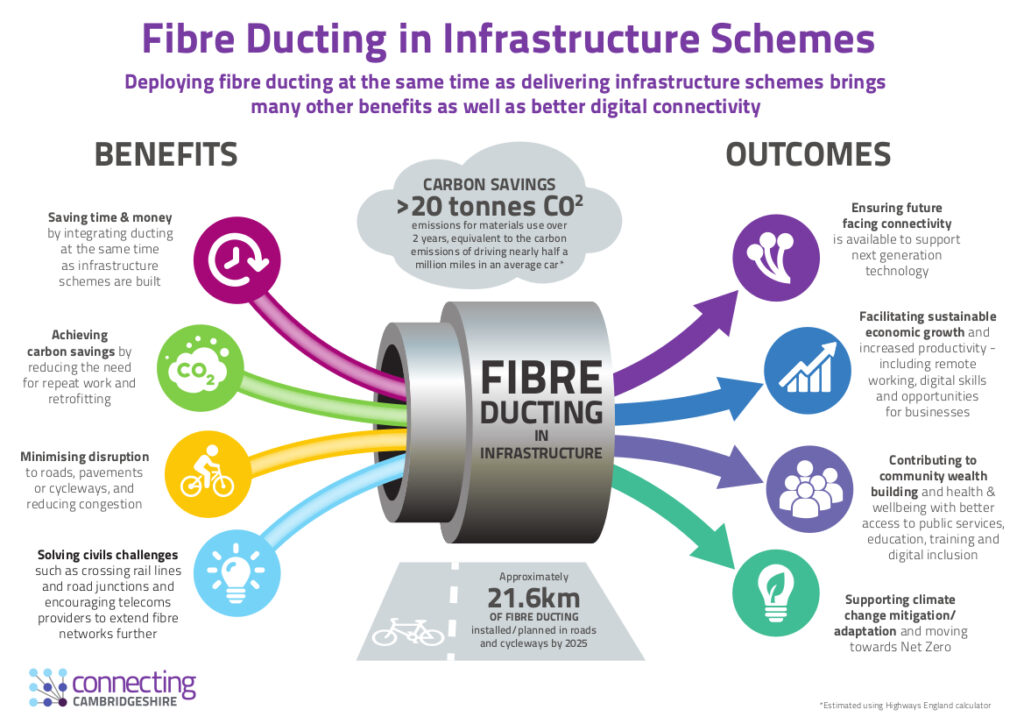 Speeding up digital delivery and saving carbon in Cambridgeshire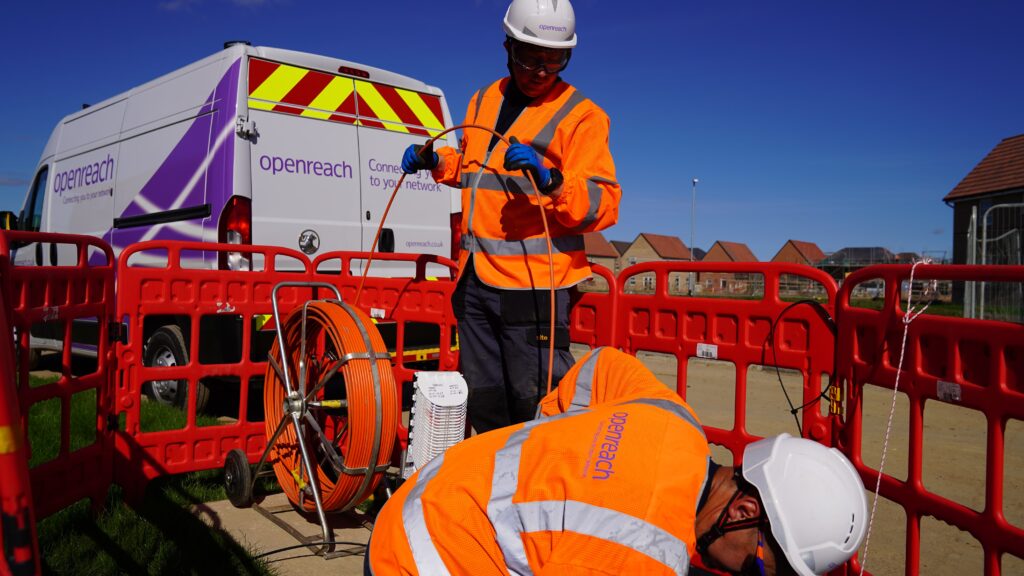 Thousands across St Ives and St Neots missing out on faster broadband