Fibre technologies being used to deliver superfast broadband include Fibre to the Cabinet (FTTC) and the newer full fibre, Fibre to the Premise (FTTP). Both will deliver speeds of 24Mbps and higher.
You can choose the speed package to suit your needs and budget. We've explained the options below or go to our Getting better broadband page to find out what you can get and how to upgrade.
Fibre to the Premise (FTTP)
The latest Fibre to the Premise (FTTP) technology is now being used to connect harder to reach areas; using fibre optic cable running directly from the telephone exchange to the property, either via underground ducts or overhead cables on telegraph poles.


FTTP offers faster speeds of up to 300Mbps on current broadband packages, and can be gigabit-capable (1000mbps), so is more future proof, however you can use it for lower speed packages depending on your requirements.
Installing FTTP involves engineers bringing fibre into your property and connecting it up to a nearby node.
Our short video below explains the process and the benefits:
How to order FTTP
Not all Internet Service Providers offer FTTP services yet, although more will become available as the full fibre network expands. You can see a list of ISPs currently offering FTTP in your area by using the Openreach postcode checker www.openreach.com/fibre-broadband/ultrafast-full-fibre-broadband.
You pay for the speed package that you order, regardless of the technology. Higher speeds via FTTP may cost more, or you can order superfast speeds at the same prices as Fibre to the Cabinet (FTTC) customers.
Once you have placed an order, your chosen provider will arrange appointments for an engineer to install fibre to your property, which normally* takes around 4 weeks to complete.
*NB Orders for FTTP may be delayed during Covid-19 lockdown periods.
How is FTTP installed?
Installing FTTP involves an engineer bringing the fibre connection into your property in several stages:
Survey or tests to assess the best way to bring fibre to your property from the nearest drop point and if additional work is needed. You need to attend this appointment.
External work to bring the fibre cable to the outside of your property underground or overhead, and fit a small connection box to the outside wall. You do not need to be present, but be aware that your 'phone line and alarm systems could go down briefly.
Internal work to complete the fibre installation inside your property by fitting a fibre connection point in the most convenient place, close to a power source. You need to attend this appointment – allowing 2-4 hours for the engineer to complete the work.
Connect the router supplied by your provider using ethernet cable or wifi.
Fibre to the Cabinet (FTTC)
Up to now, most of the superfast broadband rollout has been delivered through Fibre to the Cabinet (FTTC), using fibre optic cables from the telephone exchange to a new green street cabinet and then existing copper wires to connect to the property.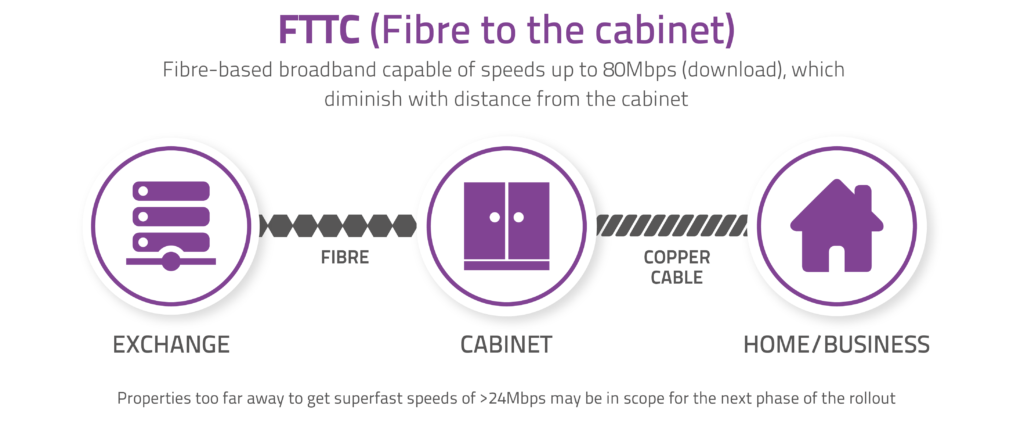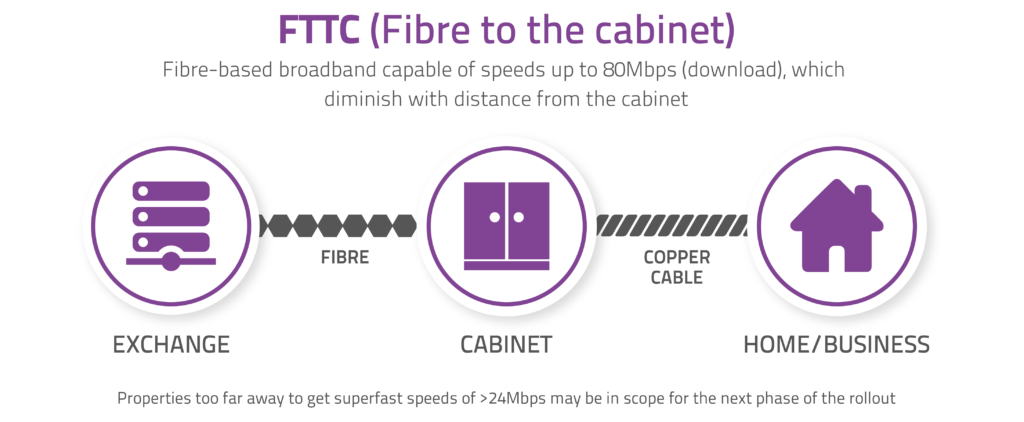 Where properties are too far away from the fibre cabinet to get superfast speeds using FTTC, the solution has sometimes been to build a new fibre cabinet closer to them, using copper rearrangement to move the existing broadband connection to boost speeds.
FTTC can deliver superfast speeds from 24 Mbps up to 80Mbps (download), depending on the distance from the cabinet. FTTC is slowly being phased out by Openreach as an option in some areas though – this will happen when an exchange area has reached a certain level of FTTP coverage – i.e. they will then 'stop selling' FTTC (please note this will only apply to a new order or an upgrade for those premises on the exchange who are able to order FTTP instead (so if FTTP is not available at a premise, the 'stop sell' will not be applied). More details about stop sells can be found on the Openreach website.
More information about FTTP, FTTC and broadband in general can be found under Frequently Asked Questions (FAQs).